Want to reach English speaking professionals in Vienna and Austria for your business, service or next event? Order a Vindobona classified!
Sponsored
Page 1/1
Latest Vienna International Classifieds in English
Christmas in Vienna is one of the most renowned Christmas concerts. Every year, the concert programme fascinates with the varied interplay of classical Christmas songs and popular Christmas music from all over the world. This year it will get international with a medley of Russian, Italian, American and French Christmas carols, as a "Special Guest" Jose Feliciano will finally perform "Feliz Navidad".
December 7, 2018 · Sponsored Content
Since 1977, IIASA's annual 3-month Young Scientists Summer Program (YSSP) offers research opportunities to talented young researchers (PhD students) whose interests correspond with the institute's ongoing research on issues of global environmental, economic, and social change. IIASA is now again looking worldwide for both sponsors and visionary young scientists who would like to apply.
November 9, 2018 · Sponsored Content
The first-ever BMW X7 has been revealed and we have all the information you need to know about the company's flagship Sports Activity Vehicle (SAV). Keep reading for the car's full price, specs and release date.
October 25, 2018 · Sponsored Content
Many Viennese Artists are intensively engaged with the city of Vienna, its history and society. Between humorous processing of clichés and critical examination of society, they have found many interesting ways to portray their typical Vienna.
October 17, 2018 · Sponsored Content
The Austria Center Vienna and the Austrian Presidency of the Council sent a signal on the International Day of the Girl and illuminated the Austria Center Vienna (ACV) pink in the evening. At the same time, inside the Center with the conference "Gender Equality and YOU. Young Voices. Joint Initiative" and the informal meeting of the EU Ministers for Gender Equality, important gender equality events took place within the framework of the EU Council Presidency.
October 12, 2018 · Sponsored Content
From now on the Wiener Wiesn welcomes you on the festival site on the Kaiserwiese in the Vienna Prater. The Wiener Wiesn Festival is one of Austria's largest traditional and folk music festivals. It has been held annually since 2011. During 18 days until 14 October, the event offers numerous highlights for visitors. The party is for young and old. The focus will be on Austrian customs and traditions, Austrian cuisine and folk music. A good opportunity to get to know Austrian customs, timeless traditions and an original sociability, lived by cheerful people with a colourful variety of dialects. Put on your dirndl or leather trousers and celebrate in lovingly decorated tents, cosy pub gardens, rustic alpine huts and in the atmospheric Wiesndorf.
September 27, 2018 · Sponsored Content
Last year, Austria's largest congress centre brought more than 100,000 international participants to Vienna for the first time. The venue also once again exceeded the record revenue figure from the previous year.
September 26, 2018 · Sponsored Content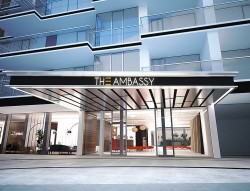 In Vienna's embassy district, surrounded by over thirty diplomatic missions, an interesting urban residential object is being created in three lifestyle categories, "The Ambassy Parkside Living".
April 23, 2018 · Sponsored Content
With the summer flight schedule 2018 Eurowings, the discount airline subsidiary of Lufthansa, is adding new destinations from Vienna to Corfu, Larnaca, Catania, Chania, Kos, Heraklion and Rhodes.
March 30, 2018 · Sponsored Content
A Schlumberger cuvée vintage 2007 with 6.600 Swarovski crystals and 26 hours manual work production time was sold for a record price of 10.000 Euro at the "Licht ins Dunkel" charity gala for a good cause.
March 26, 2018 · Sponsored Content
The new new cocktail and champagne bar 26°EAST was opened in the Palais Hansen Kempinski with a magnificent party. According to General Manager Gerhard Mitrovits, this bar is to develop into an exclusive bar hotspot at the end of the Ringstrasse.
March 17, 2018 · Sponsored Content
At the 2018 Geneva Motor Show, which is currently taking place in Geneva, BMW presents the new BMW G02 X4, among others.
March 7, 2018 · Sponsored Content
Different cultures meet in Vienna. The result, which is a fascinating blend of art and architecture is supposed to be reflected in the hotel Sofitel Vienna Stephansdom. The hotel with its 182 rooms and the hotel lobby is currently experiencing a facelift which will be completed soon. Since the beginning of the year the new general manager of Sofitel, Peter Katusak-Huzsvar, has been designing the impressive house in Vienna's Praterstrasse 1 as a lifestyle hotspot for both tourists and Viennese.
March 5, 2018 · Sponsored Content