Sponsored
Page 1/1
Culture
A new agreement between Austria and Ukraine is to promote cooperation in the fields of art and culture as well as education and science.
December 19, 2018
The Ukrainian Week at the United Nations will be organized from 12 to 16 November 2018 at the Vienna International Centre (VIC) with an overall purpose of promoting women´s empowerment and leadership, while introducing and widely popularizing Ukrainian culture and artists at the UN community. Do not miss a fantastic opportunity to taste the colors of Ukraine.
November 1, 2018
An intriguing exhibition at the World Museum Vienna deals with the significance of the headscarf and thus also touches on a current dispute in various countries about a so-called headscarf ban. Just a piece of cloth but laden with countless facets of meaning is causing a stir: the headscarf used by devout women to cover their head, their face, and occasionally their whole body. The religious duty of women to cover their head has been part of European culture for centuries, though. Its story begins with early Christianity and has remained a vibrant issue to this day.
October 11, 2018
From now on the Wiener Wiesn welcomes you on the festival site on the Kaiserwiese in the Vienna Prater. The Wiener Wiesn Festival is one of Austria's largest traditional and folk music festivals. It has been held annually since 2011. During 18 days until 14 October, the event offers numerous highlights for visitors. The party is for young and old. The focus will be on Austrian customs and traditions, Austrian cuisine and folk music. A good opportunity to get to know Austrian customs, timeless traditions and an original sociability, lived by cheerful people with a colourful variety of dialects. Put on your dirndl or leather trousers and celebrate in lovingly decorated tents, cosy pub gardens, rustic alpine huts and in the atmospheric Wiesndorf.
September 27, 2018 · Sponsored Content
We would like to share with you some of the findings of the Expat Network InterNations on the well-being of expats in Austria. Although these differ in some respects considerably from other annual reports, they also contain survey results which are a common thread in most studies. These include the fact that the quality of life is perceived as very high, but on the other hand intercultural communication and establishing friendships is perceived as very difficult.
September 20, 2018
65 days of music, opera and dance on the big screen are now over. The City of Vienna reports about the great success of this year's Film Festival on Vienna's Rathausplatz. A perfect combination of culture, culinary delights and a splendid summer attracted almost a million guests.
September 5, 2018
The 11th Diversity Ball 2018 with the theme "Your time is Now" will take place on May 5th 2018 and will transform the location Kursalon Wien into a shining symbol for practiced tolerance in our community. In a glittering ball night the organizers would like to set an example for the diversity of our community, for tolerance, accessibility and mutual respect.
April 27, 2018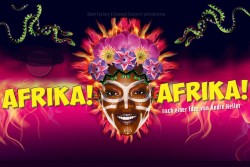 André Heller's circus show blurs the boundaries between dance, acrobatics, live music and video to create a magical stage performance. The ensemble shows the artistic present day as well as the traditional heritage of the African continent: from Ethiopia to Ivory Coast, from Morocco to South Africa.
April 5, 2018
Every summer in Vienna, numerous open-air cinemas show films on a wide range of topics. Admission is free of charge at the Musical Film Festival at City Hall, the "Cinema under the Stars" on Karlsplatz and at the wandering "Volxkino". Original versions with English or German subtitles can often be seen.
June 28, 2016
From 24 to 26 June, Vienna's Danube Island becomes a mega-party site for around three million visitors. About 1,500 artists offer a continuous program on around a dozen stages at the Danube Island Festival. There's entertainment on various themed islands to suit every age and taste, while numerous catering stands keep everyone well fed and watered.
June 16, 2016
The new production of the classic musical Evita, which tells of the life of the Argentine national heroine, is set to cause a sensation at the Ronacher from 9 March 2016. The musical Evita by Tim Rice and Andrew Lloyd Webber has been a cult show for years. It has been awarded more than 20 international prizes. The Hollywood film version starring Madonna and Antonio Banderas won an Oscar. Vincent Paterson, who created the choreography for the film, is now directing the new German-language production at the Ronacher in Vienna.
February 25, 2016
New Year's Eve in Vienna without music and dancing? No way! Whether Musikverein, Konzerthaus, Theater an der Wien or Kammeroper: Musical delights will be everywhere guaranteed.
November 27, 2015
If you're looking for original Christmas gifts, then head for the Vienna design Christmas markets. Apart from the numerous Christmas markets offering classic handicrafts, Vienna also has a few markets where designers offer original and individual creations for sale.
November 26, 2015
At the change of year, the whole of Vienna is given over to partying and dancing. The New Year's Eve Trail in the Old City is the highlight. A great ambience can be enjoyed as much at a gala dinner or festive ball as it can at a concert, the opera, in a hip club or a sophisticated bar. Superb exhibitions and a dazzling array of events, concerts, operas, operettas and the hit musicals "Mary Poppins" and "Mozart!" promise a New Year's Eve program brimming with excitement throughout the day and night.
October 26, 2015
From mid-November to Christmas, Vienna's prettiest squares transform into magical Christmas markets. The aroma of Christmas bakery items and hot punch creates a pre-Christmas atmosphere. At the traditional Vienna Magic of Advent, the Rathausplatz becomes a shining fairytale land. The 150 or so sales booths at the Christmas market offer Christmas gifts, Christmas tree decorations, sweets and warming drinks.
October 26, 2015