Foto Arsenal Vienna: Exhibition Openings with Gundula Schulze Eldowy and Mari Katayama
Following the successful conclusion of the tenth Foto Vienna, organized for the first time by Foto Arsenal Vienna, the new Center for Photography and Lens-Based Media kicks off the exhibition fall with two captivating first presentations in Austria.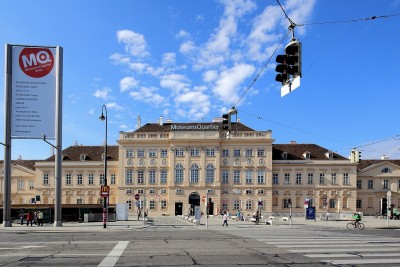 Don't miss the opportunity to experience the captivating and challenging works of Gundula Schulze Eldowy and Mari Katayama at Foto Arsenal Vienna in Museumsquartier. / Picture: © Wikimedia Commons; C.Stadler/Bwag, CC BY-SA 3.0 (https://creativecommons.org/licenses/by-sa/3.0/deed.en)
The upcoming exhibition, which opens on August 31, presents works by two outstanding artists, Gundula Schulze Eldowy and Mari Katayama, whose work is on the borders of conventions and taboos.
Gundula Schulze Eldowy: Shadow Winds. Berlin and the East 1979-1990
In her first institutional solo exhibition in Austria, the German documentary photographer Gundula Schulze Eldowy (*1954) shows about 120 works. The images, taken between the late 1970s and the collapse of the GDR, unsparingly reflect the state of a country. Schulze Eldowy moves at the boundaries of taboos, creating haunting images of East Berlin and Eastern Germany. Her photographs analyze not only the external reality but also the artist's inner world and the people on the fringes of society. The exhibition presents two main cycles by Schulze Eldowy, including the series "The Big Step and the Small Step," in which she takes a unique look at life in East Germany.
Mari Katayama: Mine and Yours
Japanese multimedia artist Mari Katayama (*1987) contrasts with Schulze Eldowy's documentary. Katayama uses staged self-portraits to explore the everyday experience of living in her own body. She uses her body as a living sculpture and mannequin to question the relationship between the individual, the environment, and society. Katayama's intricate self-portraits challenge the viewer to think about beauty, identity, and social labels. Katayama uses her art to address personal and social issues.
The exhibitions "Shadow Winds" and "Mine and Yours" will be on view at MQ Freiraum and MQ Salon at MuseumsQuartier Wien from September 1 to November 19, 2023. The opening will take place on August 31 at 7 p.m., by Veronica Kaup-Hasler, City Councilor for Culture and Science of the City of Vienna. The exhibition is curated by Felix Hoffmann, Artistic Director of FOTO ARSENAL WIEN. Public guided tours are offered every Sunday at 4 pm.
The exhibitions offer a unique opportunity to explore the work of these outstanding women artists and engage with their work. Tickets are available at the box office and in the MQ Shop, regular for €10 and reduced for €5. Opening hours are daily except Mondays from 11 am to 7 pm.