Cambodians in Vienna | Cambodia in Austria | Bilateral Relations
Austria and Cambodia - Read the latest headlines about bilateral relations in the areas of economy, business, investment, diplomacy, culture and tourism
The previous landing bans for aircraft from 18 countries expired on 1 August 2020. From now on, new entry regulations will apply, requiring a mandatory Covid 19 test. There are exceptions for diplomats and some other groups.
August 1, 2020
Worldwide deaths has exceed 610,000, according to data collected by the ECDC Centre in Sweden. More than 14.7 million people have been infected, while some 8.6 million have recovered. According to the WHO World Health Organisation, the epicentre of the coronavirus pandemic (COVID-19) is still the USA, where there are already more than 140,000 deaths. The number of infected and dead continues to rise sharply in most countries. Following is the situation update as of July 22, 2020.
July 20, 2020
The coronavirus outbreak has now reached Austria and the disease is spreading further. What is the risk of infection when travelling in and to Austria?
February 28, 2020
The new Austrian Federal Government is in favour of continuing multilateral cooperation, especially in cooperation with the European countries.
January 31, 2020
The Federal President's Reception for the Diplomatic Corps annually gathers all diplomatic representatives in Vienna in the Ceremonial Hall of the Hofburg.
January 17, 2020
The new Ambassador of the Kingdom of Cambodia to Austria, H.E. Mr. Nom Piseth presented Austrian Federal President Alexander Van der Bellen with his letter of accreditation at the Vienna Hofburg.
September 20, 2019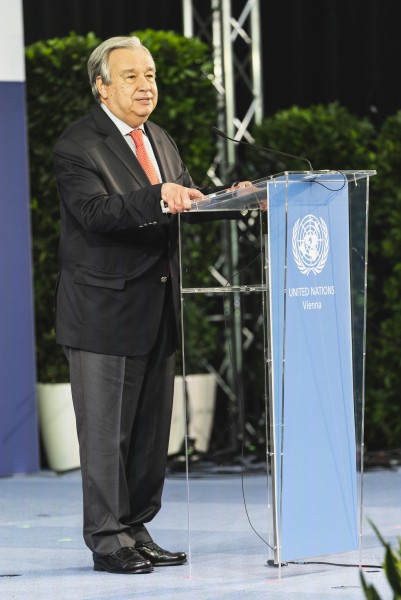 UN Secretary General António Guterres completed a busy programme when he came to Vienna for the 40th anniversary celebrations and the R20 Austria World Summit. The VIC Vienna International Centre is the place where, with the help of the Sustainable Development Goals (SDG), the 193 member states, 15 Vienna-based UN organisations and more than 5000 people from 125 countries from around the world are bound together.
May 31, 2019
The Vienna Chamber of Commerce visited the Southeast Asian countries Cambodia and Laos in the context of an economic mission with 15 participants to meet ministers and establish contacts for future participation in tenders for infrastructure projects.
April 4, 2019
The latest Global Peace Index analyses the state of peace around the world. It identifies the most and least peaceful countries, trends in violence and conflict, and calculates the economic impact of violence. The top three most peaceful countries are Iceland, Denmark and Austria. Small and stable democracies make up the top ten most peaceful countries. New Zealand, Canada and Japan are the only non-European countries in the top ten.
March 4, 2015
Austria became a member of the United Nations in 1955 and is celebrating 60 years of UN membership in 2015. 70 years ago, the United Nations were founded in San Francisco.
February 5, 2015
Fast News Search
This category only