Austria and Taiwan (ROC Republic of China) - Read the latest headlines about bilateral relations in the areas of economy, diplomacy, culture and tourism
Sponsored
Page 1/1
Taiwanese in Vienna | Taiwan in Austria | Bilateral Relations
Below you will find the updated Vindobona list of foreign ambassadors and representatives of the bilateral and multilateral missions and representations in Vienna, Austria (including description of persons, pictures, CVs, etc.).
November 19, 2018 · Updated: December 10, 2018; 22:32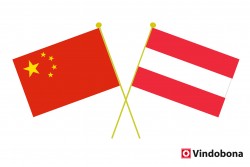 With around 900,000 arrivals (+23%) and 1.3 million overnight stays (+25%) in 2017, China is Austria's most important Asian market of origin with the greatest growth potential. From January to July 2018, Austria also recorded record figures with around 542,000 arrivals (+ 8.2) and around 781,000 overnight stays (+ 11.5 %) from China.
October 3, 2018 · Updated: October 11, 2018; 22:55
The latest Global Peace Index analyses the state of peace around the world. It identifies the most and least peaceful countries, trends in violence and conflict, and calculates the economic impact of violence. The top three most peaceful countries are Iceland, Denmark and Austria. Small and stable democracies make up the top ten most peaceful countries. New Zealand, Canada and Japan are the only non-European countries in the top ten.
March 4, 2015
Austria became a member of the United Nations in 1955 and is celebrating 60 years of UN membership in 2015. 70 years ago, the United Nations were founded in San Francisco.
February 5, 2015