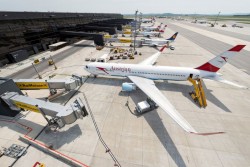 The Austrian Administrative Court has rejected objections from citizens' initiatives and residents and confirmed the authorization for the construction of the third runway at Vienna Schwechat Airport.
52 minutes ago
Austrian Airlines takes up a stance against low-cost competition at Vienna Airport. On the ...
March 6
The effects of the amendment to the contract on gas supplies from Russia to Austria signed ...
52 minutes ago
Austrian Airlines takes up a stance against low-cost competition at Vienna Airport. On the ...
3 hours ago
The Austrian Ryanair subsidiary, the low-cost airline Laudamotion, has separated from the ...
March 14
More than 70 experts from Iraq, Austria and the relevant international community met in ...
March 20
On March 19, 2019, Austrian Federal President Alexander Van der Bellen welcomed six newly ...
March 18
Something is happening in the Viennese school system. The VBS Vienna Business School will ...
March 20
The new Ambassador of the Republic of Mali (République du Mali) to Austria, H.E. Ms. Oumou ...
4 hours ago
Mark Rothko (1903–1970) was among the most remarkable artists (abstract expressionist) of the twentieth century. This exhibition, the first ever to be mounted in Austria, presents a survey of Rothko's career through more than forty major paintings to explore ideas of the sacred, ...
March 14
In 2019 Vienna was again rated by the international consulting agency Mercer as the city ...
March 7
The Concordia Ball, the most important ball held annually at Vienna City Hall, will take place on Friday, 14 June 2019 under the motto "Una Notte Italiana". If you have always dreamed of elegantly waltzing through a festively decorated ballroom, ...
New to Vindobona?
Vindobona is a trusted and indispensable source of news and analysis for the international community of Vienna.
Our mission is to inform and to connect professionals, expats and diplomats to make them more successful.
Sign up now
1) to read articles for free,
2) to receive our newsletter,
3) to receive customized alerts, and
4) to get your own personalized timeline.
See our latest newsletter
Vindobona Blogger
Read More
FriedlNet.com Market Reports
The Company, Industry and Market Research Reports Store
FriedlNet.com is a leading provider of market research and strategic business intelligence.
Visit the FriedlNet online store to get instant access to a collection of research from some of the world´s premier market research and associated firms in more than 100 industry segments.
www.friedlnet.com