Ethiopians in Vienna | Ethiopia in Austria | Bilateral Relations
Austria and Ethiopia - Read the latest headlines about bilateral relations in the areas of economy, business, investment, diplomacy, culture and tourism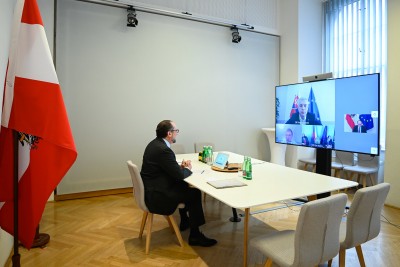 At the virtual Council of the EU Foreign Ministers, Austria's Alexander Schallenberg and his colleagues discussed the current situations in Belarus and Ukraine as well as the conflicts in Myanmar and Ethiopia. With regard to the ongoing tensions in Tigray around the Nile, Schallenberg offered Austria's expertise with regard to joint management of rivers.
April 22, 2021
On the occasion of World Water Day 2021, Austria's Foreign Minister Alexander Schallenberg and Managing Director of the Austrian Development Agency (ADA) Martin Ledolter stay committed to promoting access to drinking water in different countries around the world. Funds of almost EUR 7 million will be provided for projects in Ethiopia, Moldova and other countries.
March 23, 2021
Austria's Federal Government has decided to release the largest disbursement from the Foreign Disaster Fund for humanitarian aid in Africa, the Middle East and Ukraine. Around EUR 13.5 million will be made available to Austrian NGOs providing aid in Uganda, Ethiopia, Mozambique, Burkina Faso, Lebanon, Jordan, and the eastern Ukraine.
March 18, 2021
Due to the recent conflict in Tigray, the Covid-19 pandemic, and natural disasters, Ethiopia faces enormous challenges. Austria's Foreign Minister Alexander Schallenberg has travelled to the country in order to hold talks with the Ethiopian President and Foreign Minister and assures monetary aid from the Foreign Disaster Relief Fund.
January 14, 2021
The Austrian government has decided to increase its funding for the Foreign Disaster Fund and the Austrian Development Agency, which are both responding to ongoing crises in the world. In total, the two programs will be able to help people in need with over EUR 175 million in 2021, an increase of almost EUR 40 million compared to 2020.
December 15, 2020
Austrian Federal President Alexander Van der Bellen welcomed the six newly accredited Ambassadors of the Republic of Kosovo, the Republic of Turkey, the Republic of Equatorial Guinea, the Republic of Chad, the Republic of Guinea and the Federal Democratic Republic of Ethiopia to Austria to the Presidential Chancellery of the Vienna Imperial Palace for the presentation of their letters of accreditation.
February 26, 2020
The new Ambassador of the Federal Democratic Republic of Ethiopia to Austria, H.E. Mr. Zenebe Kebede Korcho presented Austrian Federal President Alexander Van der Bellen with his letter of accreditation at the Vienna Hofburg.
February 26, 2020
The latest Global Peace Index analyses the state of peace around the world. It identifies the most and least peaceful countries, trends in violence and conflict, and calculates the economic impact of violence. The top three most peaceful countries are Iceland, Denmark and Austria. Small and stable democracies make up the top ten most peaceful countries. New Zealand, Canada and Japan are the only non-European countries in the top ten.
March 4, 2015
Austria became a member of the United Nations in 1955 and is celebrating 60 years of UN membership in 2015. 70 years ago, the United Nations were founded in San Francisco.
February 5, 2015
Fast News Search
This category only