Ethiopia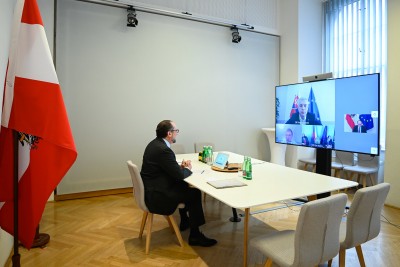 At the virtual Council of the EU Foreign Ministers, Austria's Alexander Schallenberg and his colleagues discussed the current situations in Belarus and Ukraine as well as the conflicts in Myanmar and Ethiopia. With regard to the ongoing tensions in Tigray around the Nile, Schallenberg offered Austria's expertise with regard to joint management of rivers.
April 22, 2021
Austria's Federal Government has decided to release the largest disbursement from the Foreign Disaster Fund for humanitarian aid in Africa, the Middle East and Ukraine. Around EUR 13.5 million will be made available to Austrian NGOs providing aid in Uganda, Ethiopia, Mozambique, Burkina Faso, Lebanon, Jordan, and the eastern Ukraine.
March 18, 2021
Due to the recent conflict in Tigray, the Covid-19 pandemic, and natural disasters, Ethiopia faces enormous challenges. Austria's Foreign Minister Alexander Schallenberg has travelled to the country in order to hold talks with the Ethiopian President and Foreign Minister and assures monetary aid from the Foreign Disaster Relief Fund.
January 14, 2021
Austrian Federal President Alexander Van der Bellen welcomed the six newly accredited Ambassadors of the Republic of Kosovo, the Republic of Turkey, the Republic of Equatorial Guinea, the Republic of Chad, the Republic of Guinea and the Federal Democratic Republic of Ethiopia to Austria to the Presidential Chancellery of the Vienna Imperial Palace for the presentation of their letters of accreditation.
February 26, 2020
The new Ambassador of the Federal Democratic Republic of Ethiopia to Austria, H.E. Mr. Zenebe Kebede Korcho presented Austrian Federal President Alexander Van der Bellen with his letter of accreditation at the Vienna Hofburg.
February 26, 2020
Vienna based ADA - Austrian Development Agency signs an agreement on peace and security in the Horn of Africa with EU and IGAD (Intergovernmental Authority on Development). The EUTF - EU Emergency Trust Fund for Africa provides 40 million euros. 35 million of this will be made available to ADA and 5 million directly to IGAD. The ADA passes on one million euros to IGAD. The Swedish International Development Agency SIDA will also contribute one million euros..
March 26, 2018
The Vindobona table below is an updated list of National Days of all nations, which belong to at least one of following categories: Foreign Missions and Delegations in Vienna, Austria; Diplomatic Corps and other representations in Austria; International Organizations in Vienna and Permanent Missions; Missions and Delegations to the OSCE.
February 11, 2015 · Updated: February 7, 2018; 08:12
The Mercer's 2014 Cost of Living Rankings have been published and cover 211 cities across five continents. While Western European cities have all risen in the rankings mainly due to the strengthening of the Euro against the US dollar, most cities in Central and Eastern Europe (CEE), however have fallen in the ranking as a result of local currencies depreciating against the US dollar. Bratislava (#84), Prague (#92), Kiev (#98), Ljubljana (#116), Zagreb (#120), Budapest (#135), Warsaw (#142), Belgrade (#184).
July 25, 2014