Council of the European Union - FAC Foreign Affairs Council
At the Foreign Affairs Council (FAC) the EU Foreign Ministers have agreed upon renewed and tightened sanctions against the Belarusian regime. Austrian Foreign Minister Schallenberg warns that the agreed measures must not hit the civil society. Read more below.
June 22, 2021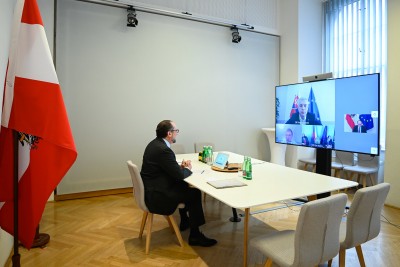 At the virtual Council of the EU Foreign Ministers, Austria's Alexander Schallenberg and his colleagues discussed the current situations in Belarus and Ukraine as well as the conflicts in Myanmar and Ethiopia. With regard to the ongoing tensions in Tigray around the Nile, Schallenberg offered Austria's expertise with regard to joint management of rivers.
April 22, 2021
Austria's Foreign Minister Alexander Schallenberg and the other EU Foreign Ministers have met in Brussels for the Foreign Affairs Council. Sanctions against China for human rights violations, the EU relations with Turkey as well as the fight against the Covid-19 pandemic were on the agenda.
March 24, 2021
Austria's Foreign Minister Alexander Schallenberg has tested positive for the coronavirus. As he attended the Council of EU Foreign Ministers in Luxembourg on Monday, there is a suspicion that he was infected there. In the meantime it has also become known via Twitter that one of his contacts, the Belgian Foreign Minister Sophie Wilmes, has also tested positive.
October 17, 2020
Turkey is moving further and further away from European values and is simply not a reliable partner for Europe. The EU must conduct a policy towards Turkey with a strong edge and clear language, based on a solid foundation of values. The EU should also make a clear cut when it comes to accession negotiations.
July 13, 2020
The EU foreign ministers have reached a basic consensus for a military mission to monitor the UN arms embargo on Libya. The EU naval operation "Sophia" in the Mediterranean Sea off Libya, however, will be terminated, Foreign Minister Alexander Schallenberg said in a statement after the Foreign Affairs Council meeting.
February 18, 2020
In view of the tense situation in the Middle East, Austrian Foreign Minister Schallenberg pleads at a special meeting of EU foreign ministers in Brussels for a return to dialogue, the continuation of the nuclear agreement and a possible mediation role for the EU.
January 10, 2020
In Luxembourg, Federal Minister Alexander Schallenberg represented Austria for the first time at the FAC Foreign Affairs Council and the Council of the European Union.
June 21, 2019