Pedro Lopez Quintana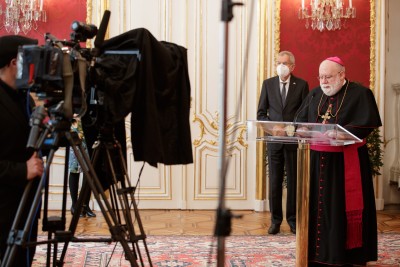 Alexander Van Der Bellen and Pedro Lopez Quintana, the doyen of the diplomatic corps, delivered a video address on the occasion of the New Year 2021 to all diplomats accredited in Austria and to the international community in general. Read the most important excerpts from the Austrian President's speech below.
January 29, 2021
The new Austrian Federal Government is in favour of continuing multilateral cooperation, especially in cooperation with the European countries.
January 31, 2020
The Federal President's Reception for the Diplomatic Corps annually gathers all diplomatic representatives in Vienna in the Ceremonial Hall of the Hofburg.
January 17, 2020
On June 14, 2019, Austrian Federal President Alexander Van der Bellen welcomed the six newly accredited Ambassadors of the Holy See, Greece, Iraq, Thailand, Ecuador and Paraguay to Austria to the Presidential Chancellery of the Vienna Imperial Palace for the presentation of their letters of accreditation.
June 21, 2019 · Updated: July 18, 2019; 11:00
The new Ambassador of of the Holy See to Austria, H.E. Apostolic Nuncio Archbishop Dr. Pedro Lopéz Quintana presented Austrian Federal President Alexander Van der Bellen with his letter of accreditation at the Vienna Hofburg.
June 20, 2019
H.E. Archbishop Dr. Lopéz Quintana became the 92nd Apostolic Nuncio in Vienna after the first accreditation of a Pontifical Nuncio in 1529.
May 22, 2019
The new Apostolic Nuncio in Austria sees itself as an instrument of unity and communication between the Pope and the Church in Austria. This was underlined by Archbishop Pedro Lopez Quintana (65) at his first official meeting with the Austrian Bishops' Conference in Vienna.
May 15, 2019