Indo-Austrian Trade and Investment Opportunities Post Covid-19
More+
›
Classifieds
♦ Published: July 13, 2020; 08:18 ♦ (Vindobona) ♦ Sponsored Content
The FIEO - Federation of Indian Export Organisations is organising an interactive video conference session o­n "Trade & Investment Opportunities between India & Austria - Post Covid-19" with H.E Mr. Jaideep Mazumdar, the new Ambassador of India to Austria o­n Tuesday, 29th July, 2020.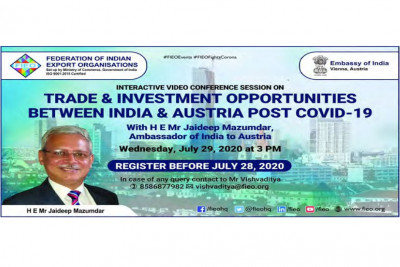 Austria's imports from India grew from EUR 506 Mn in 2017 to EUR 627 Mn in 2019. / Picture: © Embassy of India in Vienna / FIEO - Federation of Indian Export Organisations
Historically, Indo-Austrian ties have been strong.
India's bilateral trade with Austria is continuing a positive trend and has grown at much more speed than Austria's overall foreign trade in both imports and exports.
Austria's imports from India grew from USD 575 Mn in 2017 to USD 712 Mn in 2019.
Key Export Commodities from India includes Apparels, Textile, Footwear, Rubber articles, Vehicles & Railways parts, Electrical machinery and Mechanical appliances.
India's Import from Austria includes Machinery, Mechanical appliances, Railway parts, Iron and Steel etc.
India's Export to Austria makes up just 0.37% of the total imports done by Austria from World, suggesting that there lies an largely untapped market for Indian goods that that has a high potential.
The key objective of the Video Conference is to:
Understand the present economic status of Austria in view of Covid-19
Explore various business opportunities for Indian exporters in the prevailing economic environment and find comprehensive information about the Austrian market.
Roadmap and strategies to be followed to enhance India's trade and economic ties with Austria.
Senior officials from the Ministry of Commerce of India, Govt. of India & Senior representatives of prominent Austrian companies/Trade bodies are also being invited to share their experiences and join us in the session.
About FIEO
The Federation of Indian Export Organisations represents the Indian entrepreneurs' spirit of enterprise in the global market. Known popularly as "FIEO", this apex body of Indian export promotion organizations was set up jointly by the Ministry of Commerce, Government of India and trade and industry in the year 1965. FIEO is thus a partner of the Government of India in promoting India's exports.
Date & Time
29th July 2020 (Wednesday)
at 11:30 pm (Austrian Time) or 3:00 pm (IST)
Participation fee
Rs. 500 (for FIEO member) plus 18% GST per person.
Rs. 600 (for Non-Member) plus 18% GST per person.
Registeration
If you want to take part in the session, kindly register before 5:00 PM, Monday, 28th July 2020, and please use following link: https://www.fieo.org/view_detail.php?id=0,22&dcd=6357&evetype=0