Jaideep Mazumdar
The new Ambassador of the Republic of India to Austria, H.E. Mr. Jaideep Mazumdar presented Austrian Federal President Alexander Van der Bellen with his letter of accreditation at the Vienna Hofburg.
July 12, 2020 · Updated: July 15, 2020; 10:10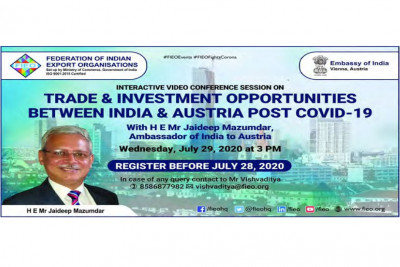 The FIEO - Federation of Indian Export Organisations is organising an interactive video conference session o­n "Trade & Investment Opportunities between India & Austria - Post Covid-19" with H.E Mr. Jaideep Mazumdar, the new Ambassador of India to Austria o­n Tuesday, 29th July, 2020.
July 13, 2020 · Sponsored Content