Indian Embassy in Vienna
On the occasion of the Gandhi Jayanti National Day on October 2, the birthday of Mahatma Gandhi in 1869, revered as the father of the Indian nation, the Embassy of India in Vienna organized two events with Dr. Shobhana Radhakrishna, an "Eminent Citizen" of India; a talk titled "Popular Diplomacy and the Philosophy of Mahatma Gandhi" at the Vienna International Center, and a lecture on "Transformational Leadership of Mahatma Gandhi and its Relevance in Contemporary World".
October 3, 2019
The Embassy of India in Vienna hosted a business talk and networking session with the purpose to bring together Austrian companies having business interest in India and to provide them with a platform to share their experiences and to provide answers to their queries.
June 12, 2019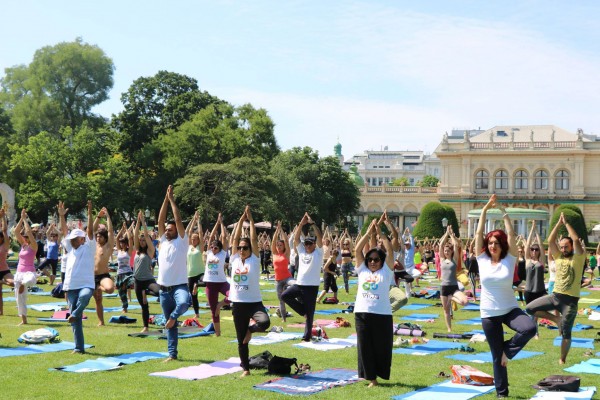 The Indian Embassy in Vienna invites all Yoga enthusiasts to the free International Day of Yoga 2019 in the Vienna Stadtpark. In addition, the United Nations in Vienna invites all yoga fans to "Yoga with Gurus", followed by a panel discussion.
June 12, 2019
Karin Kneissl, Austrian Minister for Europe, Integration and Foreign Affairs accompanied by senior officials of her Ministry recently visited India. The visit of Minister Kneissl is part of the regular exchange between the two countries. During the visit, Minister Kneissl had a meeting with External Affairs Minister, Smt Sushma Swaraj, in New Delhi.
March 7, 2019
The Permanent Mission of India in Vienna celebrated the International Day of Non-Violence and the 145th Birth Anniversary of Mahatma Gandhi at the Rotunda at United Nations, Vienna International Centre. DG UNOV, H.E. Mr. Yuri Fedotov, DG UNIDO, H.E. Mr. Li Yong, Permanent Representatives of various countries and officials of the UN Vienna were present at the event.
October 16, 2014
The Indian Embassy in Vienna in cooperation with the Austrian Chamber of Commerce, organized the "Make in India" launch event at the WKO in Vienna. The main focus of the event was the recently announced "Make in India" campaign.
October 15, 2014
India's new Prime Minister Narendra Modi launched the 'Make in India' campaign, aimed at reviving the job-creating manufacturing sector. India's Mission in Vienna will be organizing a business event focusing on "Make in India" on 9th November at the Austrian Chamber of Commerce, followed by events in other provinces. The campaign includes invitations to Austria's top companies to explore investment possibilities in India.
October 7, 2014
Yesterday evening at the Indian Embassy in Vienna, Ambassador Misra has presented himself to the international public.
May 15, 2014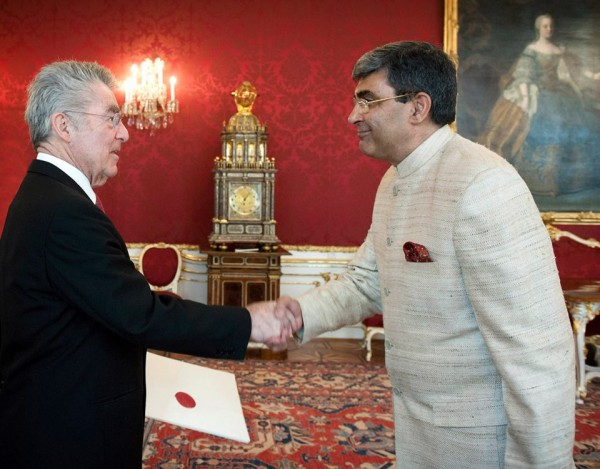 Ambassador Rajiva Misra presented his credentials to Dr. Heinz Fischer, the Federal President of Austria on 14th March and took charge as India's Ambassador to Austria and Montenegro, and Permanent Representative of India to the International bodies in Vienna.
March 14, 2014