The First-Ever BMW X7 - A New Dimension in Spaciousness
More+
›
Classifieds
♦ Published: October 25, 2018; 12:44 ♦ (Vindobona) ♦ Sponsored Content
The first-ever BMW X7 has been revealed and we have all the information you need to know about the company's flagship Sports Activity Vehicle (SAV). Keep reading for the car's full price, specs and release date.
Market launch for the BMW X7 is in December 2018, prices start at 84,000 euros. / Picture: © BMW AG / BMW Concept X7 iPerformance (ID: P90275922)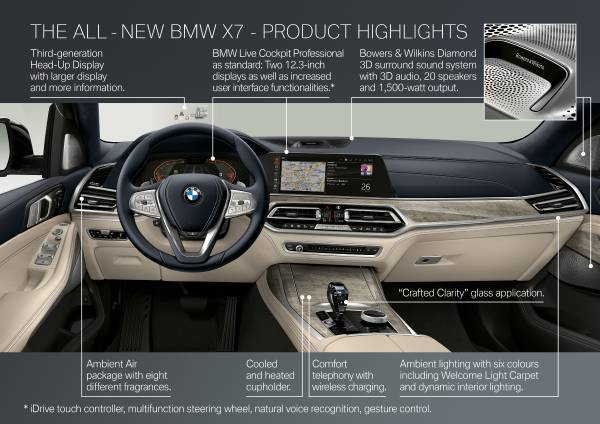 For a long time the decision makers at BMW hesitated to give their X series a real flagship.
Now the Bavarians also want to expand the segment upwards with a very large SUV.
Market launch for the BMW X7 is still in December 2018, prices start at 84,000 euros.
So far, the BMW 7 Series has been regarded as the measure of luxury, and that remains the case - but BMW is also transferring the nomenclature to the SUV segment.
The result is the BMW X7, the largest SUV in Bavaria to date.
The X7 is a proud 5.15 metres long, 1.99 metres wide and 1.79 metres high.
In addition there is a wheelbase of 3.10 metres.
The SUV, internally known as the G07, will be built at BMW's Spartanburg plant in the USA, as will all the other X models.
The rear of the 7 Series has a unique selling point: the chrome trim on the boot lid.
Visually, the X7 is based on the Concept X7 iPerformance concept car shown at the IAA in 2017.
The huge kidney (the largest ever fitted to a BMW) is retained, but the LED headlights are not quite as narrow.
As an option, they come with laser light, so that the high beam can reach up to 600 metres.
The X7's long wheelbase is noticeable from the side. Large doors should make it easier to get in.
The line is very steep at the rear, where the two-part flap is designed to make loading easier.
The tail lights are based on those of the current 7 Series, and the chrome bar running over the boot lid also shows the proximity to the saloon flagship.
Whether you like the BMW X7's styling is a matter of personal opinion, but no one can say it doesn't have huge road presence – half the battle with a car like this. With its massive grille, tall ride height, slabbed sides and huge wheels,  the X7 is less of an SUV and more of a BMW-badged juggernaut.
That's why they call it Sports Activity Vehicle (SAV).