Sponsored
Page 1/1
Margarete Schramboeck
At "InvestInAustria" 100 international companies from 16 countries were represented. Three new investments (Heitec , Port Energy Logistic, Lasertec ) with a total investment volume of 30 million Euro could be secured and will create jobs and added value in Austria. As an output of the previous event, investments amounting to around 380 million euros were made in Austria and more than 450 jobs were created.
March 1, 2019
The two East Asian states, South Korea and Japan, which have been enemies for more than 100 years, are visited by Chancellor Kurz as part of the trip to East Asia. The trip is focusing on the economy, digitisation, education and transport. Meetings with South Korean President Moon Jae-in and Prime Minister Lee Nak-yeon are held in Seoul and with Japanese Prime Minister Shinzo Abe in Tokyo.
February 11, 2019
On the sidelines of the state visit to Israel and the Austrian-Israeli Business Forum at the Hotel Intercontinental in Tel Aviv, the Economy ministers from Israel and Austria signed an agreement to accelerate business and entrepreneurial cooperation.
February 6, 2019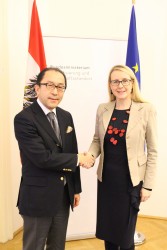 The EU's Economic Partnership Agreement with Japan entered into force on 1 February 2019. For Austria, Japan is by far the second most important market in Asia and the third most important overseas trading partner. About 1000 Austrian exporters are active in Japan, 80 companies have local branches. In 2017 the trade volume reached an all-time high of 3.5 billion euros.
February 4, 2019
In Tyrol, a Hollywood drama about a married couple whose perfectly believed family life gets completely out of balance when they barely escape an avalanche is currently in the making. Austrian film funding supports the production of "Downhill" with Will Farell and Julia Louis-Dreyfus. With a shooting time of 8 weeks, an added value of 7 million Euros and 10,000 overnight stays is expected.
January 18, 2019
In a joint event in the Aula of Sciences, the Federal Government's new foreign trade strategy was presented by Economics Minister Margarete Schramböck, Foreign Minister Karin Kneissl and President of the Chamber of Commerce Harald Mahrer. The key points of the strategy are the following: Perspective, value orientation, location effect, focal points, future orientation, communication, efficient coordination.
December 20, 2018
The Austrian government has passed the highly controversial Location Development Act in the Council of Ministers, which will speed up environmental impact assessments, be passed by the National Council this year and come into force on 1 January 2019. The new legislation will introduce automatic permits for certain energy infrastructure projects (eg, electricity grids and power plants). Positive reactions are coming from industry and politics. Various environmental associations criticise the new law.
November 22, 2018
Margarete Schramböck, Austrian Federal Minister for Digitisation and Business, visited Seoul, the capital of South Korea and China's greater Shanghai metropolitan area, together with a high-ranking delegation of experts from the fields of digitisation, science and business, with the aim of strengthening Austria as a location for innovation.
November 9, 2018
Margarete Schramböck is on the right course. According to a recent study on the e-government situation in Germany, Austria and Switzerland, Austria clearly holds the top position in the e-government country comparison.
November 7, 2018
State-owned Kuwait Airways, which will resume operations between Kuwait and Vienna in early June for the summer months, does not carry Israeli citizens. The official reason is a Kuwaiti law from 1964, which bans all companies of the 3.5 million inhabitant oil state from doing business with Israelis.
May 29, 2018
An economic delegation led by Federal Chancellor Sebastian Kurz, with the participation of Margarete Schramböck, Minister of Economic Affairs, OMV CEO Rainer Seele and a small delegation had the main objective of supporting OMV in the concession agreement for the acquisition of a 20% stake in two fields offshore Abu Dhabi from ADNOC.
May 4, 2018
For the sixth year in a row, Vienna recorded the highest number of companies settling in the city. After Vienna had already achieved a record figure in the previous year with 178 international new additions, this was again exceeded last year with 191 new companies, which is an increase of 13%. These business establishments together are responsible for investments totalling €537 million and 1,087 new jobs. There are 344 new foreign invested businesses throughout Austria. German companies remain the number one investors in Austria.
April 30, 2018
Federal Minister of Digitization and Business Location Margarete Schramböck signed an agreement to facilitate access to Chinese trading platforms for Austrian companies during the current state visit to China at the Ministry of Foreign Trade and Economic Cooperation (MOFCOM) in Beijing. Global experience shows, however, that one should be cautious with regard to technical cooperation with Chinese and copyright issues.
April 12, 2018
Austria's largest state visit to China to date is about to take place. Four ministers will travel to China from 7 to 12 April with President Van der Bellen and Chancellor Kurz. 170 Austrian companies with a delegation of around 200 people are also on board. The expectation is high that various agreements between Chinese and Austrian companies will be signed.
April 3, 2018