Austria's Ex-Economy Minister Schramböck in Saudi Arabia: Progress on Women's Rights and Economic Opportunities
The former Austrian Minister of Economy, Margarete Schramböck, has given insights into her new professional activities in Saudi Arabia in an interview with the magazine "trend". She is currently on the board of Aramco Digital, a digital subsidiary of Saudi Aramco, the world's largest oil company, which was founded in spring 2023. Schramböck plays an important role there, which she describes as "between the executive board and the supervisory board."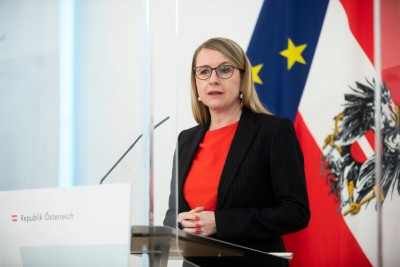 Ex-ÖVP Minister for Economic Affairs praises "great progress in women's rights" in Saudi Arabia. The former minister is a board member of a subsidiary of Saudi oil giant Saudi Aramco. / Picture: © Bundeskanzleramt (BKA) / Christoper Dunker
One of Aramco Digital's main goals is to make its IT developments globally competitive. In addition, the company is dedicated to digitizing the Saudi economy and building talent, all important components of Saudi Crown Prince Mohammed bin Salman's Vision 2030.
Schramböck is also in the process of establishing a consulting company in Saudi Arabia. Her goal is to help international companies better understand the fast-growing Saudi market and gain a foothold there.
Schrammböck, women's rights and Saudi Arabia
One bizarre aspect of Schrammböck's report is her recognition of the progress made on women's rights in Saudi Arabia. She emphasizes that women now enjoy many freedoms and that about one-third of them work in highly skilled jobs. As a Western woman, Schramböck has not experienced any significant restrictions in her daily life.
The former minister also emphasizes that the transformation in Saudi Arabia is not only economic but also affects social life. She describes how Saudi Arabian women now go out in the evenings and that morality guards are no longer an issue.
About the critical human rights situation in Saudi Arabia, Schramböck emphasizes that economic cooperation creates a basis for dialogue and building trust. She argues that it is important not to take a one-sided view of human rights issues, but also to recognize the significant progress made on women's rights.
Schramböck praises Saudi Crown Prince Mohammed bin Salman as a clear leader and sees "Vision 2030" as a tangible awakening in the country that creates a different dynamic than in Western democracies.
However, it should not be forgotten that Saudi Arabia is an absolute monarchy and has repeatedly come under international criticism in the past for human rights violations, executions, and other critical issues. Nevertheless, Schramböck emphasizes the positive developments, especially about women's rights and the economy, in the country.
Schrammböck's top CV
Margarete Schramböck is a versatile personality who has been active in both business and politics. She studied business administration at the Vienna University of Economics and Business Administration, where she also earned her doctorate. In addition, she earned a Master of Business Administration (MBA) at the University of Lyon.
Her professional career took her from various positions at Alcatel to the management of NextiraOne in Austria. After the acquisition by Dimension Data, she headed Dimension Data Austria. Later, she was head of A1 Telekom Austria and founded the management consultancy MSCH Management GmbH in 2022.
In politics, Schramböck served as Federal Minister for Science, Research, and Economy and as Federal Minister for Digitization and Business Location. She was initially a non-party member but was nominated by the ÖVP. She played a key role in the coalition negotiations with the Greens and was once again Minister of Economics in the federal government of Kurz II. She finally resigned from her post and relinquished her National Council mandate shortly before the ÖVP's federal party convention in May 2022.