Sponsored
Page 1/1
Anti-Semitism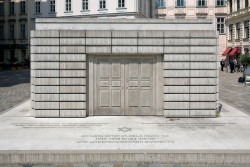 As the Jewish community in Austria reports growing concerns about the rise of antisemitism, at the invitation of the FRA - EU Agency for Fundamental Rights, local and EU policymakers, Jewish community organisations and civil society met to discuss how to combat this worrying trend.
May 3, 2019
During his state visit to Israel, Austrian Federal President Alexander Van der Bellen emphasised Austria's co-responsibility for the Shoah. In the Holocaust memorial Jad Vaschem Van der Bellen bowed before the Jewish victims of National Socialism. Meanwhile, as expected, there is no lifting of the boycott against Foreign Minister Karin Kneissl or members of the Freedom Party's cabinet.
February 4, 2019
A high-ranking conference against antisemitism with the motto "Europe beyond Anti-Semitism and Anti-Zionism - Securing Jewish Life in Europe" took place in Vienna. Participants included Ariel Muzicant, Vice-President of the European Jewish Congress (EJC), Education Minister Heinz Faßmann, EU Justice Commissioner Vera Jourova, EPP Group Leader Manfred Weber, Ukrainian Foreign Minister Pavlo Anatoliyovych Klimkin and Chancellor Kurz. Israeli Prime Minister Benjamin Netanyahu had had to cancel his participation at short notice because of the government crisis in his home country. Likewise not a single official representative of the Austrian Freedom Party was present.
November 22, 2018
Austria commemorated the events 80 years ago. Austrian Shoah survivors from Israel received in Parliament at the Hofburg. President of the National Council Sobotka asked Austrian Shoah survivors for forgiveness. Federal President Alexander Van der Bellen already reminded the day before at a commemoration ceremony of the November pogroms at the Psychosocial Centre of the Vienna Israelite Community. On the commemoration day he laid a wreath at the Shoah memorial on Judenplatz.
November 9, 2018
The long-planned project of a name memorial wall for the 66,000 Jews murdered in Austria during National Socialism is about to be realized. Kurt Tutter, initiator of the name wall, explained the significance of the new memorial, which will be erected in Ostarrichi Park. For him, it was a matter of commemorating his family as well as families unknown to him who had been completely wiped out by Nazi crimes.
November 9, 2018
Rabbi Arthur Schneier from New York, speaking at the reception for Holocaust survivors in parliament, called for a common commitment to "Never again" and to live together in peace and mutual respect.
November 9, 2018
Remembering the Holocaust reminds us of our duty to speak out against the denial of these grave crimes and to work for tolerance and non-discrimination in our societies, said keynote speakers addressing the meeting of the OSCE Permanent Council, which was dedicated to commemorating the International Holocaust Remembrance Day on 27 January.
January 22, 2016