Sponsored
Page 1/1
Wolfgang Sobotka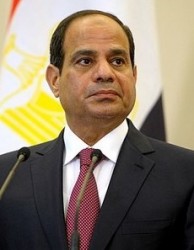 Egypt's President Abdel Fattah el-Sisi (Abd al-Fattah as-Sisi) also visited the Federal President, the Federal Chancellor and the Federal Parliament on the fringes of the EU-Africa Forum (High-Level Forum Africa-Europe), at which he received a EUR 350m commitment from the EIB to finance the expansion of the Cairo Metro. Every meeting emphasised that bilateral relations between Austria and Egypt were very good and that cooperation was to be extended. The former General, who is controversial because of his authoritarian style of government, had already made a clear rejection of the so-called "disembarkation platforms" in Egypt to the EU Council President Sebastian Kurz in Cairo during the summer.
December 19, 2018
Austria commemorated the events 80 years ago. Austrian Shoah survivors from Israel received in Parliament at the Hofburg. President of the National Council Sobotka asked Austrian Shoah survivors for forgiveness. Federal President Alexander Van der Bellen already reminded the day before at a commemoration ceremony of the November pogroms at the Psychosocial Centre of the Vienna Israelite Community. On the commemoration day he laid a wreath at the Shoah memorial on Judenplatz.
November 9, 2018
The long-planned project of a name memorial wall for the 66,000 Jews murdered in Austria during National Socialism is about to be realized. Kurt Tutter, initiator of the name wall, explained the significance of the new memorial, which will be erected in Ostarrichi Park. For him, it was a matter of commemorating his family as well as families unknown to him who had been completely wiped out by Nazi crimes.
November 9, 2018
Rabbi Arthur Schneier from New York, speaking at the reception for Holocaust survivors in parliament, called for a common commitment to "Never again" and to live together in peace and mutual respect.
November 9, 2018
The Prime Minister of the Socialist Republic of Vietnam, Nguyễn Xuân Phúc pays a visit to Vienna in the run-up to the Brussels ASEM Summit between the EU and Asian states.
October 16, 2018
During a panel discussion in the Austrian Parliament, the perspective of enlargement for the Western Balkans and, in this context, the role of parliaments were discussed. The future of the six candidate countries in the Western Balkans is within the EU. They need an honest perspective for this common future with the EU Member States. The EU must contribute to ensuring the stability of the democracies in these countries. The former President of the German Bundestag, Norbert Lammert, attended the discussion.
October 11, 2018
700,000 votes from polling stations have now been counted. Alexander Van der Bellen has won ahead of his rival Norbert Hofer by 50.3 to 49.7 percent. Thus Alexander van der Bellen, who has the support of the Greens, will become the first Green President of the Republic of Austria.
May 23, 2016 · Updated: May 23, 2016; 16:55