US Embassy Vienna
With 160.00 COVID-19 infected, the United States already took over the sad lead of the list of countries with the most infected. With almost 3,000 deaths, the USA is still in fifth place. But what is the official standpoint of the USA or the State Department towards Austria and what stay-related actions are recommended to US citizens in Austria?
March 30, 2020
Updated address and contact details of the Embassy of the United States of America, including all sections of the Embassy (ECONOMIC / POLITICAL, POLITICAL / MULTILATERAL, AGRICULTURE, CULTURE AND INFORMATION, ADMINISTRATION, OFFICE OF THE DEFENCE ATTACHé, IMMIGRATION DEPARTMENT, CUSTOMS DECLARATION, NARCOTICS DIVISION, LEGAL) and other US representations in Vienna, Austria.
April 1, 2019 · Updated: February 12, 2020; 11:00
The 82-year-old United States Secretary of Commerce Wilbur Ross, who has been in office since February 28, 2017 and was nominated by Donald Trump, visited Vienna and met, among others, US Ambassador Trevor Traina, WKO President Mahrer, Finance Minister Blümel, Environment Minister Gewessler and Economics Minister Schramböck.
February 11, 2020
During his meeting with the Austrian Minister of the Interior, Wolfgang Peschorn, the US Ambassador to Austria, Trevor Traina, spoke among other things about the continuation of cooperation in the fields of organised crime and counter-terrorism.
August 24, 2019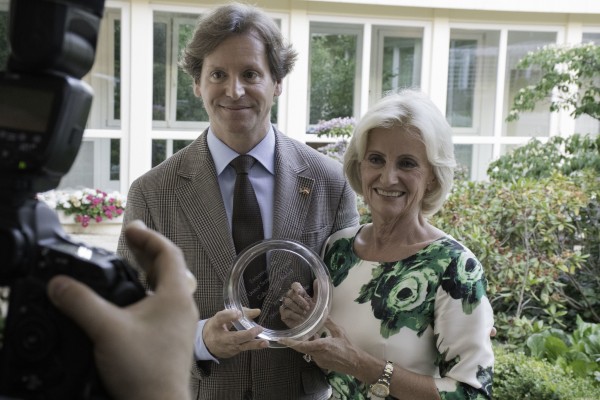 Austrian entrepreneur Elisabeth Gürtler-Mauthner (69) received the Cultural Icon Award in acknowledgement of her achievements and long friendship with the United States of America from US Ambassador Trevor Traina.
June 20, 2019
Robin Dunnigan assumed the duties of Deputy Chief of Mission of the U.S. Embassy in Austria in July 2018.
May 2, 2019
Chancellor Sebastian Kurz travels to the USA on an official working visit. During the trip, Kurz will meet US Secretary of State Mike Pompeo, National Security Advisor John Bolton, Ivanka Trump, and Trump's son-in-law Jared Kushner. The one-on-one meeting with Donald Trump in Washington will last only about 15 minutes.
February 19, 2019
Aaron Wess Mitchell, Assistant Secretary of State for European and Eurasian Affairs, who is only in office for a few more days, met the Austrian Foreign Minister for a working breakfast in Vienna. Afterwards they visited Clemens Metternich's former office together with US Ambassador Trevor Traina and his wife.
February 11, 2019
Shortly after the midterm elections, a panel discussion with prominent guests will take place at Vienna's International Institute for Peace (IIP), analysing the election results and discussing their significance.
November 5, 2018
The new US Ambassador to Austria Trevor Traina presented President Alexander Van der Bellen with his letter of accreditation at the Vienna Hofburg.
May 25, 2018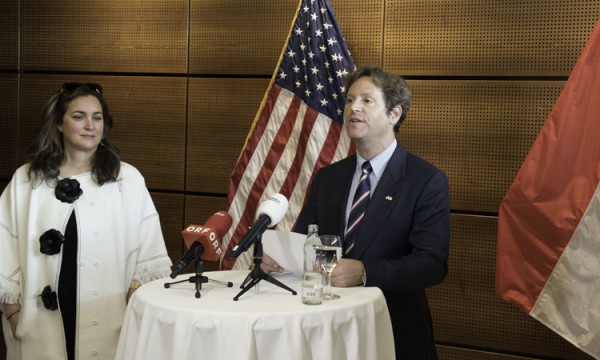 The new US Ambassador to Austria, Trevor Traina, grandson of Wiley T. Buchanan, the former US Ambassador to Vienna (1975 - 1977), has arrived in Vienna with his wife Alexis. In his first statement, he underlined the close bilateral relations between the two countries: "Austria was one of America's first friends and we are here to remind everyone how important that relationship still is today - over 180 years later."
May 19, 2018
The Foreign Relations Committee of the Senate in Washington D.C. has confirmed Trevor Traina, nominated by President Donald Trump, as the new US Ambassador to Austria. This was announced by both the State Department and the US Embassy in Vienna. The post has been vacant since January 2017 when Alexa Wesner was recalled from her post.
March 30, 2018
Ambassador Alexa Lange Wesner presented her credentials to Dr. Heinz Fischer, the Federal President of Austria on 22nd October 2013 and took charge as U.S Ambassador to Austria.
October 23, 2013