Sponsored
Page 1/1
Gernot Bluemel
200 guests celebrated the opening of the new office of the Konrad-Adenauer-Foundation in Vienna at the Grand Hotel on Kärtner Ring. The presence in Vienna should strengthen multilateralism and strengthen functioning partnerships with serious democracies. Claudia Crawford becomes head of the Vienna office.
November 7, 2019
In addition to the currently troubled "Historical Centre of Vienna", which is to be preserved as a World Heritage Site, two other Austrian sites will be added to the World Heritage List at the next UNESCO meeting in Baku at the end of June. The "Danubian Limes" (Donaulimes), part of the former border of the Roman Empire, and the "Grossglockner High Alpine Road", the highest surfaced mountain pass road in Austria. Thus Austria will have 12 World Heritage Sites starting in summer 2019.
May 6, 2019
The Brussels chief negotiator for the Brexit, Michel Barnier, visited Vienna for talks with Foreign Minister Kneissl, Chancellor Kurz and Chancellery Minister Blümel. The agenda of the meeting included an exchange on the current state of the Brexit negotiations and the future relationship between the European Union and the United Kingdom.
March 1, 2019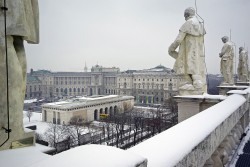 The recently opened House of Austrian History is intended to present the history of Austria from the middle of the 19th century to as broad an audience as possible, with a special focus from 1918 to the present day in its European and international context. A team of experts met for the first time and will present a concept for the long-term design of the institution until the summer.
January 28, 2019
Some top positions in the Austrian diplomatic service were awarded this week. The Council of Ministers of the Austrian Ministry of Foreign Affairs has decided to place new Austrian diplomats at head of following Austrian Embassies worldwide.
January 24, 2019
During Austria's EU Council Presidency, the name Gernot Blümel, the Federal Minister responsible not only for the EU but also for art, culture and media, will be mentioned time and again. Blümel is also chairmen of the Vienna ÖVP and a close confidant of Chancellor Sebastian Kurz. His ministry is even physically integrated into the Federal Chancellery.
June 5, 2018
On 1 July 2018, Austria will take over the Presidency of the Council of the European Union from Bulgaria. During its Presidency of the Council of the European Union (1 July to 31 December 2018), guided by the motto "A Europe that protects", Austria will focus on three key areas: security and the fight against illegal migration, retaining competitiveness through digitalisation, and stability in the neighbouring regions (particularly the accession of the Western Balkans to the EU).
April 25, 2018
In connection with the affair over children as soldiers playing war games in a Viennese mosque, Minister Blümel demands further information and clarification of the incidents from the Islamic Religious Community in Austria (IGGÖ - Islamische Glaubensgemeinschaft in Österreich).
April 20, 2018