Sponsored
Page 4/4
Western Balkans
Serbia's Prime Minister plans economic trip to United States.
May 3, 2013
Albania's Minister of Foreign Affairs received the Ambassador of Poland, Mr. Marek Jeziorski this week.
May 3, 2013
Austrian State Secretary encourages bilateral relations and trade between the two Central European countries as well as improved relations between EU and US.
April 30, 2013
Brussels called for further modernizations of the judiciary in Albania before the EU considers Accession talks with the country. Futhermore the union announced to keep a close eye on the elections in June.
April 24, 2013
On Friday, heads of Serbian and Kosovar government Ivica Dacic and Hashim Thaci have come to an agreement under the the special guidance of EU Commissioner for Foreign Affairs Catherine Ashton.
April 22, 2013
Bosnia-Herzegovina shows interest in Austrian social partnership model and measures against increasing youth unemployment rate.
April 18, 2013
Up to now President Filip Vujanovic has declared himself as the winner of the election two hours after the closing of the polling stations.
April 8, 2013
The Macedonian government plans to provide fresh EUR 100 million loan, with 5.5% interest rate, as support to the business sector.
April 2, 2013
Cooperation between Serbia and Macedonia precondition for efficient tackling of regional issues
April 2, 2013
Austria's Vice Chancellor advocates the commission's assessment and is looking forward to welcoming Croatia as a new EU member.
March 29, 2013
Young Albanians protest against an "Anti-Albanian" policy.
March 8, 2013
According to the Vienna Institute For International Economic Studies (wiiw), the double-dip recession over, yet there is no economic growht in sight for CESEE countries.
March 7, 2013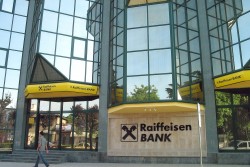 The Austrian bank group is currently expanding in Poland but it is not going to bid for Hypo Alpe Adria as an acquisition "would not make sense".
June 6, 2011