Sponsored
Page 1/1
BMDW Federal Ministry for Digital and Economic Affairs
The Federal Ministry for Digital and Economic Affairs has calculated that the savings potential through the elimination of customs duties amounts to around one billion euros across the EU and to around EUR 34 million for Austria. For Austria this means a rather modest growth effect of 0.011 percent of GDP.
February 4, 2019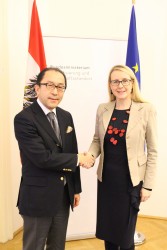 The EU's Economic Partnership Agreement with Japan entered into force on 1 February 2019. For Austria, Japan is by far the second most important market in Asia and the third most important overseas trading partner. About 1000 Austrian exporters are active in Japan, 80 companies have local branches. In 2017 the trade volume reached an all-time high of 3.5 billion euros.
February 4, 2019
In Tyrol, a Hollywood drama about a married couple whose perfectly believed family life gets completely out of balance when they barely escape an avalanche is currently in the making. Austrian film funding supports the production of "Downhill" with Will Farell and Julia Louis-Dreyfus. With a shooting time of 8 weeks, an added value of 7 million Euros and 10,000 overnight stays is expected.
January 18, 2019
In a joint event in the Aula of Sciences, the Federal Government's new foreign trade strategy was presented by Economics Minister Margarete Schramböck, Foreign Minister Karin Kneissl and President of the Chamber of Commerce Harald Mahrer. The key points of the strategy are the following: Perspective, value orientation, location effect, focal points, future orientation, communication, efficient coordination.
December 20, 2018
The Austrian government has passed the highly controversial Location Development Act in the Council of Ministers, which will speed up environmental impact assessments, be passed by the National Council this year and come into force on 1 January 2019. The new legislation will introduce automatic permits for certain energy infrastructure projects (eg, electricity grids and power plants). Positive reactions are coming from industry and politics. Various environmental associations criticise the new law.
November 22, 2018
Margarete Schramböck, Austrian Federal Minister for Digitisation and Business, visited Seoul, the capital of South Korea and China's greater Shanghai metropolitan area, together with a high-ranking delegation of experts from the fields of digitisation, science and business, with the aim of strengthening Austria as a location for innovation.
November 9, 2018
Margarete Schramböck is on the right course. According to a recent study on the e-government situation in Germany, Austria and Switzerland, Austria clearly holds the top position in the e-government country comparison.
November 7, 2018