Democracy
Over 100 speakers of parliament met at the Austria Center Vienna for the Fifth World Conference of the Speakers of Parliament. President of the Austrian National Council Wolfgang Sobotka spoke about the international community finding internal solutions to global problems. Duarte Pacheco and Martin Chungong, the President and Secretary-General of the Inter-Parliamentary Union (IPU), defended democracy and human rights and spoke about the robustness of parliaments during the COVID-19 crisis.
September 10, 2021
Mayor of Berlin Michael Müller, Mayor of Bern Alec von Graffenried, and Mayor of Vienna Michael Ludwig met in Vienna to exchange experiences and learn from each other. The three mayors drew up a joint declaration that addressed climate change, affordable housing, economic resiliency from the COVID-19 pandemic, and democracy and the rule of law.
August 19, 2021
During her working visit to Vienna, the Belarusian opposition leader Svetlana Tikhanovskaya met with Austria's Federal President Alexander Van der Bellen, Chancellor Sebastian Kurz and Foreign Minister Alexander Schallenberg in order to discuss the continued support from Austria for the efforts of the Belarusian opposition and civil society.
April 30, 2021
The European Commission has presented the European Democracy Action Plan with which the EU wants to promote basic human rights values and democracy worldwide. Austria's EU Minister Edtstadler welcomes this initiative and demands a clear focus on the digital area of the plan.
December 4, 2020
The Belarusian opposition leader Tikhanovskaya visited Vienna to hold meetings with representatives of Austrian and European politics. Chancellor Kurz thanked Tikhanovskaya for her "tireless efforts" and reaffirmed Austria's support for a democratic Belarus.
November 6, 2020
Politicians from Hungary, Srpska, Albania, Slovakia and Austria came together in Salzburg to discuss the fundamental values of Europe. Democracy, inner-European cooperation and the fight against Covid-19 were only some of the main topics.
September 29, 2020
The newly formed initiative "European Capital of Democracy" will try to give civilization more access to democracy by supporting activities and events that aim to improve and strengthen democracy. The first capital will be selected next year.
September 21, 2020
The IPU in cooperation with the Austrian parliament has issued a report that comprises best-practice examples of how countries promote democracy among the population, especially among the youth and young adults.
September 15, 2020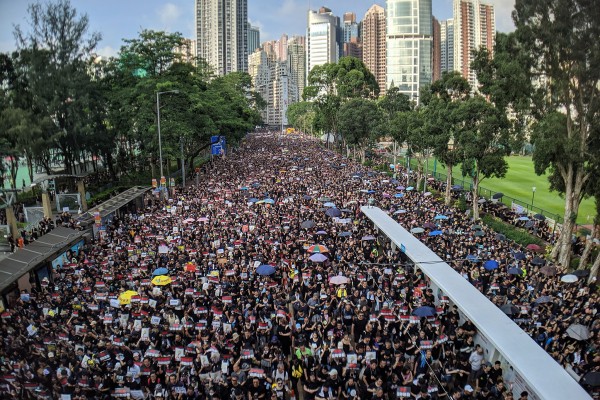 Li Xiaosi, the Chinese ambassador in Austria, has repeated the demands known from Beijing in an interview in the Ö1-Mittagsjournal and threatened with an intervention by China in the continuing violent protests in Hong Kong.
August 20, 2019
In a statement to the government, the EU Main Committee of the Austrian National Council has unanimously spoken out in favour of breaking off EU accession negotiations with Turkey. Instead, the parliamentary groups believe that a strategic partnership should be sought.
June 21, 2019