European Forum Alpbach Gets Ready for Its 2022 Event
The date for the European Forum Alpbach was recently set by the organizers and will take place between August 21 and September 2. The event, which is a great networking opportunity, is focusing on a new program design this year. If you are interested in what is on the program and which days are best to visit, then read on now.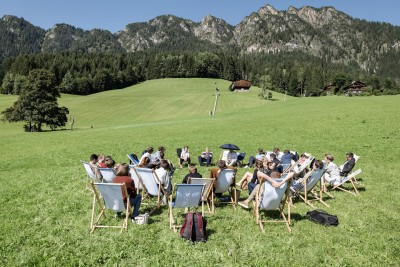 As every year, a varied program is offered. / Picture: © EFA / Matteo Vegetti
The time has finally come. After 2 years in which the European Forum Alpbach had to be held in online hybrid mode due to the Covid-19 virus, it can take place again as usual.
The organizers have fixed the period from August 21 to September 2 and are looking forward to welcoming numerous guests.
This year, the event mode will be adapted. Instead of sticking to the original program structure, which previously provided for a separation between thematic areas such as economic/political/health talks, new paths are being taken this year.
In the future, Europe's major challenges will be discussed in a cross-cutting and interdisciplinary way, evenly distributed throughout the program, on the basis of 4 predefined tracks: The Climate Opportunity, Securing Europe's Future in a Globalised World, The Financing of Europe's Future and, this year for the first time, The Future of Democracy and the Rule of Law in Europe.
New Program Structure
The two weeks, from August 21 to September 2, will differ as follows: In the first, the so-called Conference Week, there will of course be many opportunities for networking and exchange, in addition to a wide range of compact formats such as lectures, plenary sessions, workshops and walking tours.
The focus on agenda setting and business networking is particularly exciting for people from the DACH region. In addition to English as the conference language, individual formats may also be held in German.
In the second week, we'll be going in depth at Lab Week. In smaller groups, with international participants and innovative formats, we will dive into the major issues that we touched on in the first week.
In retreats lasting several days, we work with international stakeholders on selected topics and develop ideas and solutions for Europe's future. Open creative formats offer the opportunity for exchange, plenary events round off the daily program.
About the European Forum Alpbach
The European Forum Alpbach (EFA) is a platform that advances ideas for a strengthened and democratic Europe. It brings together young people, leading scholars, thinkers, scientists, policy makers, business people and civil society actors from Europe and around the world to engage and contribute to its mission of shaping a stronger Europe.
A key member of this important organization was Erhard Busek. As Vindobona reported, he passed away in the night of March 13-14, 2022, and was named honorary president by the European Forum Alpbach after years of dedication to European cohesion.
The history of the Forum
The first European Forum Alpbach took place in 1945 as the "International University Weeks". In 1948 it was founded as a non-profit association with its headquarters in Vienna and since then has been operating independently of any ideological, religious or political attitudes.