Sponsored
Page 1/1
Antonio Guterres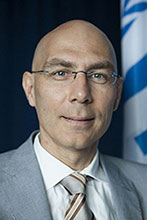 The Austrian lawyer and UN official Volker Türk was appointed by UN Secretary-General António Guterres as one of his deputies with the title Assistant Secretary-General for Strategic Coordination.
April 19, 2019
Rabbi Arthur Schneier from New York, speaking at the reception for Holocaust survivors in parliament, called for a common commitment to "Never again" and to live together in peace and mutual respect.
November 9, 2018
UN Day marks the anniversary of the entry into force in 1945 of the UN Charter. With the ratification of this founding document by the majority of its signatories, including the five permanent members of the Security Council, the United Nations officially came into being.
October 25, 2018
Corruption and complicity know no geographical boundaries, and it is society's most vulnerable who get hurt the most, senior United Nations officials say, calling on Government leaders to fight the scourge, "from the top down".
June 6, 2018
The world is being 'swamped' by harmful plastic waste says United Nations Secretary-General António Guterres, marking Environment Day. Microplastic particles in the ocean, now outnumber stars in our galaxy.
June 5, 2018