Edtstadler Wants to Help Implement Project for a Safer Internet with the IGF
Austrian Europe Minister Karoline Edtstadler and State Secretary Florian Tursky Discussed in a panel in Vienna the promotion of the "Global Digital Impact" by the Internet Governance Forum (IGF).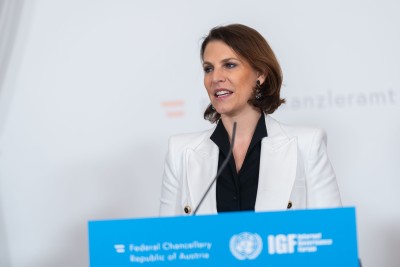 Europe Minister Karoline Edtstadler Is Part of High-Level Panel of the IGF to Establish a Future With Safer Internet / Picture: © Bundeskanzleramt (BKA) / Florian Schrötter
"The Internet has changed our lives massively. It has become an indispensable part of our everyday lives. As a result, we are faced with the situation that we have to adapt the analog world to the digital one and bring the regulations of the analog world up to 21st-century standards," said Federal Minister Karoline Edtstadler at a press conference with State Secretary Florian Tursky and the Chairman of the IGF, Vinton Cerf, at the Federal Chancellery.
The meeting in Vienna was focused primarily on planning the Global Digital Compact. This is to outline "common principles for an open, free, and secure digital future for all. Strategies are also to be developed to make the IGF more visible. Cerf appeals to politicians that technologies must become more reliable, according to Meinbezirk.
At present, it is quite clear that there is still a need for action in this regard: Technologies are advancing rapidly and it is necessary to keep pace here, for example in artificial intelligence, autonomous driving, smart cities, or e-governance. It is important to push for an ongoing dialog between all stakeholders, the federal minister said, referring to the role of the IGF. The "missing link" between the companies driving developments and governments and the United Nations (UN) must be established through intensive dialogue and a multi-stakeholder process, minister Edtstadler said.
According to Der Standard, The IGF's Leadership Panel was initiated in August 2022 by UN Secretary-General António Guterres and is intended to improve communication between the stakeholders represented in the Internet Governance Forum on the one hand and governments and international organizations on the other. Cerf cited the Organization for Economic Cooperation and Development (OECD), the Group of the Largest Industrialized Nations (G7), and the Group of the Largest Industrialized and Emerging Countries (G20) as examples.
The IGF is a global multi-stakeholder forum hosted by the United Nations for policy dialogue on Internet governance issues. The IGF's Leadership Panel meets at least three times a year. The United Nations Secretary-General appoints its 10 members, including Federal Minister Karoline Edtstadler, for 2-year terms. The meeting in Vienna will focus primarily on consultations on the planned Global Digital Compact. This will be a commitment of the United Nations to an open, free, and secure Internet and is to be adopted in September 2024. Strategies are also to be developed in Vienna to make the IGF more visible.