Sponsored
Page 1/1
Sciences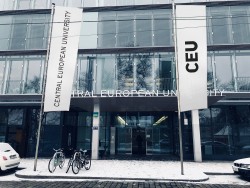 The Austrian accreditation procedure for the CEU Central European University was successfully completed, so that the university can now start its operations in Vienna. Until now, the university was accredited in the USA and Hungary, the teaching took place exclusively in Hungary.
July 12, 2019
Austria is the first country in the European Union to ban the use of the controversial weedkiller glyphosate. The ban is legally controversial and could contradict EU law.
July 4, 2019
A new scientific and technological cooperation agreement with Brazil aims to promote bilateral relations in the field of science and research.
June 27, 2019
IST Austria (Institute of Science and Technology Austria) was inaugurated in June 2009 with four professors. Today, almost ten years later, the Institute employs about 700 people, among them 34 European Research Council grantees out of 51 professors, performing cutting-edge research in biology, physics, mathematics, and computer science. On the occasion of the 10th anniversary of the opening IST Austria organized a festive event with the following participants, among others: Michael Ignatieff, Alice Dautry, Edith Heard, Daniel Zajfman, Alexander Van der Bellen, Johanna Mikl Leitner and Thomas A. Henzinger the president of IST Austria.
June 5, 2019
The "IST - Institute of Science and Technology Austria" in Maria Gugging near Klosterneuburg celebrates its 10th anniversary and invites for this reason to a festive event in its premises. What began 10 years ago with four professors is today an international scientific institution with 700 employees. Among the speakers and participants of the evening are Alexander Van der Bellen, Sebastian Kurz, Heinz Fassmann, Johanna Mikl-Leitner, Thomas A. Henzinger, Michael Ignatieff, Daniel Zajfman, Alice Dautry and Edith Heard.
May 21, 2019
Austria's Government is currently working together with the consulting firm Accenture on an Austrian Artificial Intelligence (AI) strategy, which is to be finalised by summer 2019. A study shows that a 3 percent economic growth is possible. That much is already known.
May 3, 2019
Since 1977, IIASA's annual 3-month Young Scientists Summer Program (YSSP) offers research opportunities to talented young researchers (PhD students) whose interests correspond with the institute's ongoing research on issues of global environmental, economic, and social change. IIASA is now again looking worldwide for both sponsors and visionary young scientists who would like to apply.
November 9, 2018 · Sponsored Content
Since the opening of the Institute of Science and Technology Austria (IST Austria) in 2009, a campus for the natural sciences, mathematics and computer sciences has been set up in Lower Austria, just outside Vienna, at considerable speed. The campus now provides a workplace for almost 700 employees as well as the necessary infrastructure for cutting-edge research at the highest level. The next steps in the development of the IST Austria Campus were initiated under the motto "Building a Campus for Science".
October 22, 2018
Vice Chancellor of South Africa's University of KwaZulu-Natal, Dr Albert S. van Jaarsveld, has been appointed as Director General and CEO of the International Institute for Applied Systems Analysis (IIASA). Dr. Albert van Jaarsveld has become the eleventh Director General of IIASA on 1 October 2018. He succeeds outgoing Director General Professor Pavel Kabat who became the first Chief Scientist of the United Nation's World Meteorological Organization (WMO).
October 1, 2018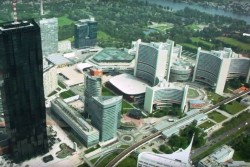 Nearly 2,600 participants attended this year's event at VIC Vienna International Centre, including delegates from 153 of the IAEA's 170 Member States, international organizations, non-governmental organizations and the media. By the end of the 62nd IAEA General Conference, 91 Member States have pledged to the Technical Cooperation Fund for 2019. While not all Member States use the opportunity of the General Conference to pledge their contribution, a pledge by so many countries – over 53% of all IAEA Member States – represents a record. The total Technical Cooperation Fund Target for 2019 is 86.2 million euros.
September 27, 2018
The world's largest entrepreneurship study reports rises in business start-ups in Austria.
February 7, 2013
57% of Austrian enterprises with 10 and more employees were innovation active. Innovation expenditure decreased, but the share of turnover of 1.7% remained constant.
July 5, 2012
The Alpbach Technology Forum as part of the European Forum Alpbach is the largest platform for a research- and technology-related debate in Austria.
July 4, 2012
This year, the Alpbach Universities of Applied Sciences Forum will focus on "Lifestyles and social networks".
July 3, 2012
Karlheinz Töchterle (ÖVP), announced that Austrian universities may receive € 1.00bn from 2013 to 2015 separately. However, critics already commented the plan.
September 12, 2011