Josep Borrell
EU Commission President Ursula von der Leyen and Belgium's King Philippe each met with Austrian President Alexander Van der Bellen on his latest trip to Brussels. Climate change was a key topic of discussion. Read what Van der Bellen had to say about it.
July 20, 2021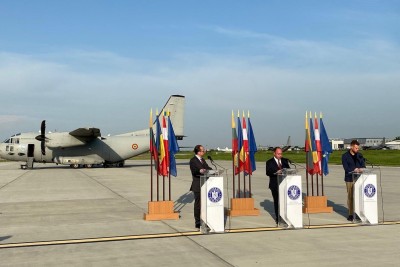 The Foreign Ministers from Lithuania, Romania and Austria have visited the South Caucasus countries Azerbaija, Armenia and Georgia on behalf of EU External Relations Commissioner Josep Borrell. Read everything about the details of the trip below.
June 28, 2021
The EU government heads have come together to discuss foreign policy issues in Brussels. Chancellor Kurz is representing Austria at the meeting and has already met with Council President Michel, EU Foreign Affairs Commissioner Borrell and Commission President von der Leyen.
October 1, 2020
Austria's Foreign Minister Schallenberg has come together with the other EU Foreign Minister to discuss current foreign affairs. The main topics were the conflict between Greece and Turkey, the current situation in Belarus, relations between the EU and Russia, and the peace process in the Middle East.
August 28, 2020
Austria's Foreign Minister Schallenberg met with his Iranian counterpart Mohammad Javad Zarif and President Hassan Rouhani in Iran to mediate in the nuclear dispute. Rouhani himself has compared the US sanctions against Iran with the corona virus, saying that fear of it is greater than reality.
February 23, 2020
In view of the tense situation in the Middle East, Austrian Foreign Minister Schallenberg pleads at a special meeting of EU foreign ministers in Brussels for a return to dialogue, the continuation of the nuclear agreement and a possible mediation role for the EU.
January 10, 2020
At the heart of the new Commission's work is the need to address the changes in climate, technology and demography that are transforming European societies and way of life. Von der Leyen has structured and presented her team according to these requirements. Read below where the 27 commissioners come from and what they represent.
September 10, 2019