Leonore Gewessler
Similar to measures taken in the spring of this year, the Ministry for Climate Protection has set up an emergency contract with the ÖBB and WESTbahn to safeguard rail transport between Vienna and Salzburg. The mutual acceptance of tickets from WESTbahn and ÖBB will also be established again.
November 13, 2020
The railway system in Austria will see impactful investments in the near future. Due to a package of around EUR 17.5 billion until 2026, the Federal Government together with Austrian Railways (ÖBB) will try to make travelling and transporting by rail even more attractive to customers.
October 20, 2020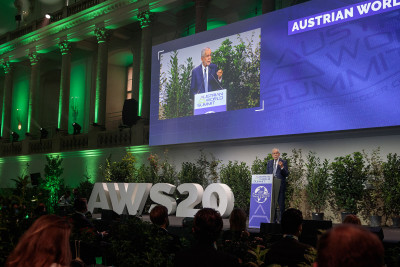 The Austrian World Summit 2020 was held in a mixture of analog and digital setting due to Covid-19, yet starred international personalities that all highlighted the importance of sustainability and the fight against climate change.
September 17, 2020
Climate Protection Minister Gewessler announces a three-point plan to tackle Austria's plastic waste. These measures include a deposit system, a producer's levy and a reusable quota.
September 7, 2020
The Lufthansa subsidiary will receive EUR 450 million from the Republic of Austria, EUR 300 million of which as a loan guarantee and EUR 150 million as equity.
June 9, 2020
The 82-year-old United States Secretary of Commerce Wilbur Ross, who has been in office since February 28, 2017 and was nominated by Donald Trump, visited Vienna and met, among others, US Ambassador Trevor Traina, WKO President Mahrer, Finance Minister Blümel, Environment Minister Gewessler and Economics Minister Schramböck.
February 11, 2020
Austrian President Van der Bellen has praised the new Federal Government in the Presidency Chancellery. In addition to Federal Chancellor Kurz and Vice-Chancellor Werner Kogler, the cabinet consists of 13 ministers and one state secretary. Among the 17 government members are 9 women and 8 men. Find out below who the new government members are.
January 7, 2020