Sponsored
Page 1/1
Johannes Hahn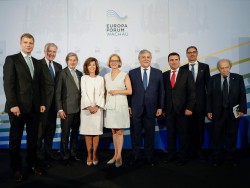 Austria will continue to represent its interests in Europe in a proven manner, said representatives from politics and business at this year's European Forum Wachau.
June 17, 2019
After the EU Commission issued a recommendation for the opening of accession talks with the two Western Balkan states North Macedonia and Albania, the European parliamentarians of the Austrian People's Party (ÖVP) Karas and Mandl demand that the "promises" be kept. The decision to open accession talks will be taken by the Member States later in June.
June 5, 2019
European Commissioner Günther Oettinger invited for two days leading politicians, bankers and industrialists to his Europe Forum 2019 in Lech am Arlberg in the Austrian Alps.
April 26, 2019
Hahn argues, that David Cameron is to blame for his own defeat at the hands of the eurosceptic UKIP at the European elections.
May 31, 2014
Hungary is faced with the reprograming of up to 5 percent or a volume of up to € 250m of its current EU regional aid.
September 9, 2013
According to the governor of OeNB (Austrian Central Bank), it would be dangerous to establish new institutions without a democratic legitimization.
September 18, 2012
Ewald Nowotny, governor of Austria´s Central Bank (OeNB) thinks that the economic situation in Slovenia is under control.
September 18, 2012