Sponsored
Page 1/1
Johannes Hahn
At the heart of the new Commission's work is the need to address the changes in climate, technology and demography that are transforming European societies and way of life. Von der Leyen has structured and presented her team according to these requirements. Read below where the 27 commissioners come from and what they represent.
September 10, 2019
Today, Commission President-elect Ursula von der Leyen presented her team and the new structure of the next European Commission. Austrian Johannes Hahn will be in charge of Budget and Administration, and will report directly to Von der Leyen. According to the President-elect von der Leyen, as a long-serving member of the College, he knows about the importance of nurturing a modern administration.
September 10, 2019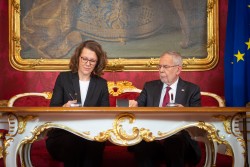 Iris Eliisa Rauskala (41) is an Austrian economist and civil servant. She was appointed Federal Minister for Education, Science and Research in the Austrian Federal Government Bierlein. She grew up almost five years in Finland and then in Upper Austria. After her appointment she outed herself in interviews with the media as an openly lesbian woman.
August 6, 2019
Ursula von der Leyen was approved by the European Parliament as the next president of the European Commission. Her first, and very tricky, task is to assign jobs to the commissioners of each country. Johannes Hahn was again nominated by the main committee of the austrian parliament as the Austrian member of the next EU Commission.
July 19, 2019
The Austrian Federal Government under Chancellor Bierlein has announced that Johannes Hahn will again be nominated as an Austrian member of the future EU Commission.
July 12, 2019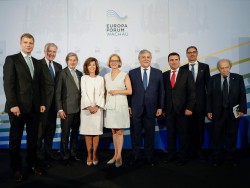 Austria will continue to represent its interests in Europe in a proven manner, said representatives from politics and business at this year's European Forum Wachau.
June 17, 2019
After the EU Commission issued a recommendation for the opening of accession talks with the two Western Balkan states North Macedonia and Albania, the European parliamentarians of the Austrian People's Party (ÖVP) Karas and Mandl demand that the "promises" be kept. The decision to open accession talks will be taken by the Member States later in June.
June 5, 2019
European Commissioner Günther Oettinger invited for two days leading politicians, bankers and industrialists to his Europe Forum 2019 in Lech am Arlberg in the Austrian Alps.
April 26, 2019
Hahn argues, that David Cameron is to blame for his own defeat at the hands of the eurosceptic UKIP at the European elections.
May 31, 2014
Hungary is faced with the reprograming of up to 5 percent or a volume of up to € 250m of its current EU regional aid.
September 9, 2013
According to the governor of OeNB (Austrian Central Bank), it would be dangerous to establish new institutions without a democratic legitimization.
September 18, 2012
Ewald Nowotny, governor of Austria´s Central Bank (OeNB) thinks that the economic situation in Slovenia is under control.
September 18, 2012