Sponsored
Page 1/1
Shoah
Simon Wiesenthal is known today as the man who dedicated his life to justice for the victims of the Shoah. But his profession as an architect, which he pursued until his persecution by the Nazi regime, has fallen into oblivion. The exhibition "Café As. Das Überleben des Simon Wiesenthal" shows 80 detailed designs by Wiesenthal for the "Café As", which he made for the Polish prisoner Edmund Staniszewski, who repeatedly gave him food and thus saved his life.
May 22, 2019
Memorial Day against Violence and Racism for the Victims of National Socialism and Liberation of the Mauthausen Concentration Camp on 5 May 1945, where 100,000 people were murdered.
May 6, 2019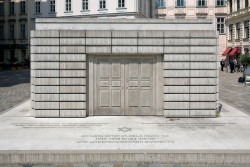 As the Jewish community in Austria reports growing concerns about the rise of antisemitism, at the invitation of the FRA - EU Agency for Fundamental Rights, local and EU policymakers, Jewish community organisations and civil society met to discuss how to combat this worrying trend.
May 3, 2019
The US historian Timothy Snyder will give a lecture on the topic "Judenplatz 1010 - A speech to Europe 2019". The place and time chosen for the lecture are no coincidence: European history is presented at Vienna's Judenplatz like in no other place.
April 18, 2019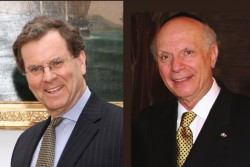 As part of his trip to the USA, Chancellor Sebastian Kurz met David Harris, Executive Director of the AJC American Jewish Committee, and once again Holocaust survivor Rabbi Arthur Schneier.
February 21, 2019
Austria commemorated the events 80 years ago. Austrian Shoah survivors from Israel received in Parliament at the Hofburg. President of the National Council Sobotka asked Austrian Shoah survivors for forgiveness. Federal President Alexander Van der Bellen already reminded the day before at a commemoration ceremony of the November pogroms at the Psychosocial Centre of the Vienna Israelite Community. On the commemoration day he laid a wreath at the Shoah memorial on Judenplatz.
November 9, 2018
The long-planned project of a name memorial wall for the 66,000 Jews murdered in Austria during National Socialism is about to be realized. Kurt Tutter, initiator of the name wall, explained the significance of the new memorial, which will be erected in Ostarrichi Park. For him, it was a matter of commemorating his family as well as families unknown to him who had been completely wiped out by Nazi crimes.
November 9, 2018
Rabbi Arthur Schneier from New York, speaking at the reception for Holocaust survivors in parliament, called for a common commitment to "Never again" and to live together in peace and mutual respect.
November 9, 2018