Migration Policy
The Mayor of the City of Vienna Michael Ludwig received his counterpart from Morocco Asmaa Rhlalou, who has been the Mayor of Rabat since 2021. Also today, Chancellor Karl Nehammer and Interior Minister Gerhard Karner visited Morocco.
February 27, 2023
Europe Minister Karoline Edtstadler said that the European Union must maintain unity despite the economy and the Russian aggression in Ukraine.
February 24, 2023
Austrian Chancellor Karl Nehammer has met with Spanish Prime Minister Pedro Sanchez in Vienna. He mentioned the Spanish expertise in terms of external border control. On the same day, he also met with the Belgian Prime Minister Alexander de Croo.
February 20, 2023
The Finnish head of government Sanna Marin visited Vienna for the first time for working talks and was received by Chancellor Karl Nehammer and President Alexander Van der Bellen. Finland and Austria share enough interests, but not the status of neutrality.
February 20, 2023
Austrian Chancellor Karl Nehammer at the EU summit has called for more financing for EU border protection. He also called for more control on irregular migration at EU level.
February 9, 2023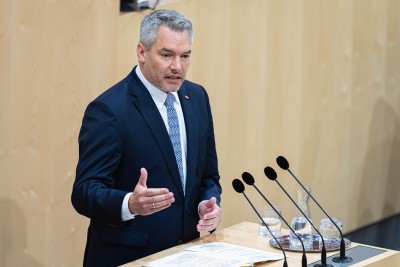 Austrian Chancellor Karl Nehammer has threatens to block a summit declaration of all EU heads of state. The reason for this is that the Chancellor is opinionated that the EU does not put enough work into the issue of migration.
February 8, 2023
Austrian Europe Minister Karoline Edtstadler has met with the Hungarian Minister of Justice Judit Varga in Vienna where they talked about current challenges such as illegal immigration and the Russian aggression on Ukraine.
January 31, 2023
Austrian Minister of Europe Karoline Edtstadler pushes for the initial registration of migrants in Hungary before they enter Austria. This is seen as a preemptive measure against the rising numbers of illegal migrants in Austria.
December 20, 2022