Embassy of the Republic of Poland in Austria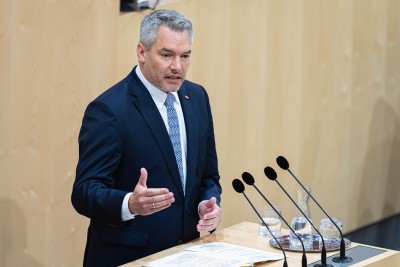 According to current knowledge, a misguided Ukrainian missile was the cause of the impact in Poland. Austria's Chancellor Nehammer calls for prudence as the "order of the day,", especially in times of war, and condemns the large-scale Russian missile attack on Ukrainian civilian facilities.
November 16, 2022
As Secretary General of the National Fund of the Republic of Austria for Holocaust Victims, Hannah Lessing was awarded the Cavalier's Cross of the Order of Merit of the Republic of Poland for her outstanding work and deep understanding for the survivors of National Socialism living abroad.
July 22, 2022
Governor Hans Peter Doskozil received ambassadors of foreign representative authorities at the Martinsschlössel in Donnerskirchen in the Austrian province of Burgenland.
June 15, 2022
A unique exhibition awaits you from today in the Gallery of the Polish Institute in Vienna. The exhibition shows the first days of the war in Ukraine from the point of view of Ukrainian artist and designer Hélène Litorelle and gives an insight into her thoughts and experiences. Read on if you want to learn more!
June 10, 2022
The Polish Embassy in Vienna enabled young Austrians to get to know Poland and visit the city of Krakow as part of the Soul Travel project. The focus of the action was to see the sights of Poland from new perspectives and to show the people of Poland the beauty of nature - off the normal tourist paths.
May 24, 2022
A panel discussion about "The legacy of of Solidarność and the current challenges facing Europe during Poland's chairmanship of the Visegrád Group" was held in Vienna. Diplomats, politicians, and journalists shared experiences.
September 10, 2020
Recently, Ms. Dominika Krois became the Permanent Representative of the Republic of Poland to the United Nations Office and the International Organisations in Vienna.
February 28, 2020
The upcoming summit of the North Atlantic Treaty Organization (NATO) in Warsaw from 8th to 9th July 2016 sees the organization facing numerous challenges. The withdrawal of combat troops from Afghanistan and rising tensions in the European area – from the conflict in Ukraine to the migration crisis, effected the question of the role of NATO's Partnership for Peace under the new circumstances. A conference in Vienna with the working title "Current Security Challenges for Europe: NATO, its Partners and the Warsaw Summit" intends to discuss these and other pertinent issues.
June 16, 2016