Crimea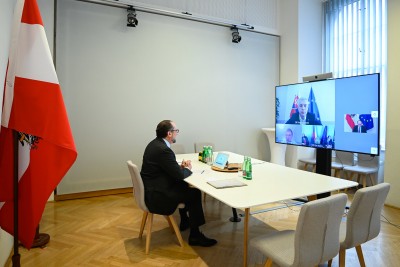 At the virtual Council of the EU Foreign Ministers, Austria's Alexander Schallenberg and his colleagues discussed the current situations in Belarus and Ukraine as well as the conflicts in Myanmar and Ethiopia. With regard to the ongoing tensions in Tigray around the Nile, Schallenberg offered Austria's expertise with regard to joint management of rivers.
April 22, 2021
Ukrainian President Zelensky came to Austria to visit President Van der Bellen, Chancellor Kurz and President of the National Council Sobotka. The topics comprised the successful bilateral economic relations and regional conflicts in the Ukraine.
September 16, 2020
In a statement to the government, the EU Main Committee of the Austrian National Council has unanimously spoken out in favour of breaking off EU accession negotiations with Turkey. Instead, the parliamentary groups believe that a strategic partnership should be sought.
June 21, 2019
The Sochi Dialogue Russian Austrian Forum was opened in the Black Sea port city as part of a working discussion between Russian and Austrian representatives from politics, business, science, education, art and culture.
May 15, 2019
Journalist Christian Wehrschütz has been barred from entering Ukraine for one year. The Austrian Secretary General of the Foreign Ministry Johannes Peterlik and Harlem Désir, OSCE Representative on Freedom of the Media, demand the lifting of the entry ban for ORF correspondent Christian Wehrschütz.
March 11, 2019
Ambassador Dr. Olexander Scherba has been Ambassador of Ukraine in Austria since November 2014. He has been a career diplomat since 1995 with oversees posts in Germany and the US. Besides Ukrainian and Russian, he speaks German and English.
February 12, 2019
In the case of the controversial Ukraine correspondent of the ORF, Christian Wehrschütz, the Ukrainian ambassador in Vienna, H.E. Dr. Olexander Scherba, on behalf of the Ministry of Foreign Affairs of Ukraine, announced in a written statement that the accreditation in the war zone of Ukraine was "unlikely". The reason is still the "illegal" crossing (documentary filming) of the Crimean bridge which was illegally built by the Russian side.
February 12, 2019