Russo-Ukrainian War: Already 100,000 People on the Run, but Austria's Interior Ministry Expects No Large Movement of Ukrainians to Austria
Although already one day after the Russian attack on Ukraine, according to UN figures, more than 100,000 people out of the 44 million population are on the run, the "migration experts" of the Austrian Interior Ministry do not assume that there will be a large movement of Ukrainian citizens to Austria. On the other hand, most EU countries are preparing for more refugees.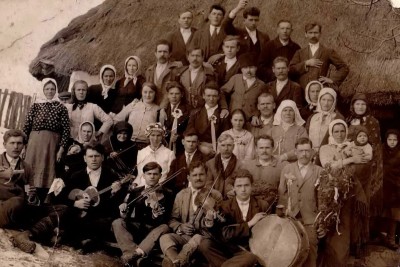 Ukrainian diaspora: Ukrainians in Austro-Hungarian Monarchy 1890. / Picture: © Wikimedia Commons / Unknown authorUnknown author, Public Domain
More than 100,000 people are fleeing inside Ukraine, according to preliminary estimates by the UN refugee agency UNHCR.
Thousands more people have already fled the country, according to the report.
There have clearly been significant displacements within the country and there are movements toward borders and abroad. He said the UNHCR refugee agency is working with the authorities in Ukraine to assist the fleeing people.
The U.S. ambassador to the UN, Linda Thomas-Greenfield, expects a possible total of up to five million people to flee the violence in Ukraine. Ukraine has a population of about 44 million. 
Migration experts from the Austrian Ministry of the Interior, as well as international experts from EU member states, do not currently expect a large movement of Ukrainian citizens to Austria.
About 12,700 Ukrainians live in Austria and therefore represent a small community compared to the Austrian population.
With the already second aid delivery, Austria supports Ukraine with medical supplies needed for life-saving operations. Five trucks were dispatched on the morning of February 25, 2022 with plastic gloves, protective goggles and disinfectants.
Therefore, Austria will first provide neighborhood assistance in Ukraine, as well as in the neighboring countries -Hungary, Romania and Poland.
In addition, the "Directorate for State Protection and Intelligence" (DSN) will take precautions, for example, to protect buildings of the two parties to the conflict Ukraine and Russia in Vienna, and registrations of demonstrations and meetings will be monitored.
The items now on the way were purchased by the Ministry of Health during the Covid 19 pandemic.
They are now being handed over to Ukrainian authorities at the Slovak-Ukrainian border. These are 50,000 liters of hand disinfectant, 9,000 liters of surface disinfectant, 50,000 pieces of protective goggles, 50,000 pieces of MNS masks and 20,000 pieces of gloves.
The delivery is already the second relief shipment originating from Austria.
Five power generators, 700 sleeping bags and mats and 28 IBC water containers, each with a capacity of 1,000 liters, have already been sent.
"With today's transport, we are providing immediate assistance to the people of Ukraine. Of course, we will also support neighboring countries in taking care of Ukrainians who have fled, if they request our assistance," said Interior Minister Gerhard Karner on the occasion of the dispatch of the aid shipment to Ukraine. "Our full solidarity is with Ukraine. What we are witnessing is a breach of international law. We have a very clear stance on this and support the sanctions package adopted at the EU crisis summit," the Interior Minister said.
BMI - Ministry of the Interior - Bundesministerium fuer Inneres