NATO and Russian Leaders Say Differences "Will Be Hard to Bridge"
Representatives from NATO and Russia met in Brussels at the NATO-Russia Council to try to de-escalate the tensions between Russia and Ukraine and NATO. Read what each side is demanding and why the leaders say the differences "will be hard to bridge."
NATO Secretary General Jens Stoltenberg: "There are opportunities for constructive engagement which should not be missed, in the interest of security in Europe." / Picture: © NATO North Atlantic Treaty Organization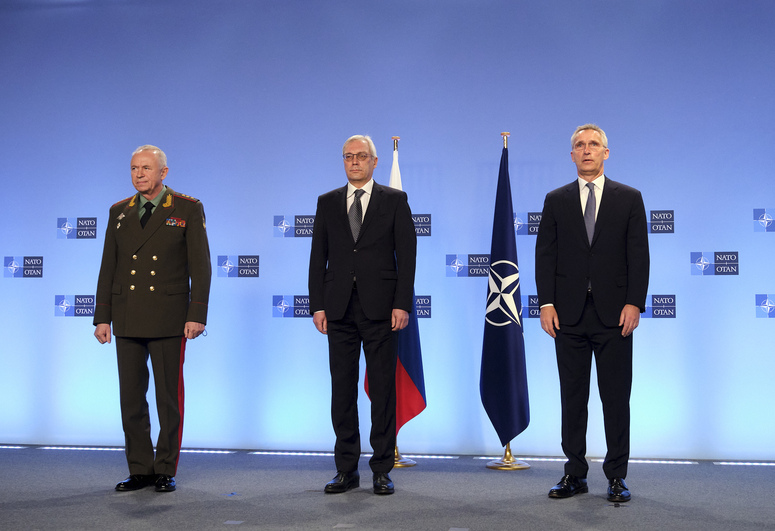 The NATO-Russia Council met on January 12, 2022, in Brussels in an attempt to ease tensions over the Russia-Ukraine Crisis.
The high-stakes meeting comes as Russia has massed around 100,000 troops on the Ukrainian border, sparking fears of an invasion. Simultaneously, Russia has accused NATO of encroaching on its borders.
The meeting lasted for about four hours and the two sides were able to formally voice their concerns.
The Russian delegation was headed by Deputy Foreign Minister Alexander Grushko and Deputy Defense Minister Alexander Fomin. On the other side, NATO was represented by its Secretary General Jens Stoltenberg, Deputy Secretary of State Wendy Sherman, and representatives of 30 NATO member states.
This meeting came just two days after talks between Russian and U.S. officials in Geneva and will be followed by a third round of talks at the OSCE in Vienna on January 13.
Moscow demands Ukraine and Georgia be barred from joining NATO
Russia has essentially presented three demands to the Western Allies.
One of these demands is that the United States remove its nuclear weapons from Europe.
A second demand from the Russian government is that NATO withdraws its forces and military infrastructure from Russia's borders, specifically the Eastern NATO Allies.
Finally, one of the most important demands from Russia is for NATO to officially deny NATO membership to Ukraine and Georgia.
According to the Russian News Agency Tass, "In Moscow's opinion, these measures will help remedy a serious imbalance in security in Europe that emerged after the break-up of the Soviet Union and the Warsaw Pact. This will help considerably ease the military and political tension and rejoin the baseline principle affirmed by all of the OSCE member states at their Istanbul summit in 1999 that the security of one state or a group of states cannot be ensured at the expense of the security of other states."
NATO says "Our differences will not be easy to bridge."
NATO has rejected Russia's demand of not admitting new members to NATO by reaffirming its commitment to its "Open Door Policy."
The Open Door Policy states, "The door to NATO membership remains open to other European countries which are ready and willing to undertake the commitments and obligations of membership and whose membership contributes to security in the Euro-Atlantic area."
While the NATO Allies rejected this demand, NATO's secretary general did express some willingness to negotiate regarding Russia's other concerns.
During his press conference after the meeting, Secretary General Stoltenberg said, "In particular, Allies would like to discuss concrete ways to increase the transparency of military exercises, to prevent dangerous military incidents, and reduce space and cyber threats."
He added, "Allies have also offered to look at arms control, disarmament and non-proliferation. Including to address reciprocal limitations on missiles, and to address nuclear policies."
NATO also called upon Russia to "immediately de-escalate the situation" with Ukraine and to "respect the sovereignty and territorial integrity of its neighbors."
Secretary General Stoltenberg acknowledged the difficulty of the negotiations, saying, "Our differences will not be easy to bridge."
However, both the Russian and NATO delegations expressed some optimism and noted that it is encouraging that they are at least meeting for discussions.
"There are opportunities for constructive engagement which should not be missed, in the interest of security in Europe," said Stoltenberg.
NATO Secretary General Jens Stoltenberg's full press conference: