Jens Stoltenberg
In a recent development, Russia is on the brink of withdrawing its support for the Comprehensive Nuclear-Test-Ban Treaty (CTBT). This decision has sparked intense discussions about the potential for Russia to conduct a nuclear test, creating significant ripples in the global security landscape. The prospect of Russia conducting such a test has prompted deep concerns among experts and policymakers.
October 17, 2023
The format, which was launched in 2021 to counter diplomatically the Russian annexation of Crimea, takes place this year virtually in the shadow of Russia's invasion of Ukraine. This year's Crimea Platform summit was attended online by many international guests, including OSCE's Helga Maria Schmid and Austria's Foreign Minister Alexander Schallenberg.
August 24, 2022
With Russia posing a threat to Finland and Sweden through its attack on Ukraine, both countries decided to join NATO. The ambassadors of Finland and Sweden handed over the relevant documents to NATO Secretary General Stoltenberg this morning.
May 18, 2022
Finland and Sweden have decided to make an official application to join NATO. Stimulated by the ambitions of Finland and Sweden, the question arises: Will Austria also consider this step soon? Probably not if you ask Austrian politicians and people. A brief analysis.
May 16, 2022
The foreign ministers of NATO member states condemned the war crimes committed by the Russian army in Ukraine. The meeting discussed more intensive support for Ukraine, as well as the development of the NATO's next Strategic Concept.
April 7, 2022
As the Republic of Belarus celebrates its 30th anniversary at the OSCE in Vienna, the number of political prisoners in Belarus has now reached 1000. Although Belarus claims to be a long-standing, active, and committed member, the European Commission's External Action Service notes that Belarus "must adhere to its international commitments and obligations within the OSCE". Meanwhile, it became known that a troop deployment of 30,000 Russian soldiers to Belarus has also taken place.
February 4, 2022
Several heads of state - including Ursula von der Leyen, Jens Stoltenberg, Boris Johnson, Emmanuel Macron, Olaf Scholz, Mario Draghi, Charles Michel and Polish President Andrzej Duda, representing the Chairmanship of the OSCE - took part in a virtual meeting organised by the President of the United States Joe Biden, on Russia's continued military build-up in and around Ukraine and its implications for European and international security.
January 24, 2022
Representatives from NATO and Russia met in Brussels at the NATO-Russia Council to try to de-escalate the tensions between Russia and Ukraine and NATO. Read what each side is demanding and why the leaders say the differences "will be hard to bridge."
January 12, 2022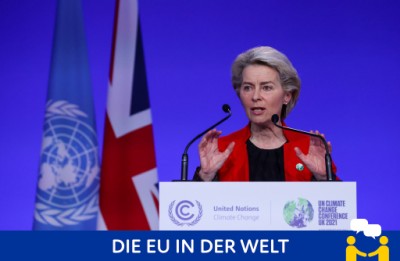 "We are in a systemic rivalry with authoritarian regimes such as Russia and China and must make every effort to defend the international rules-based order. It is a matter of protecting the principles of international law, human rights and the international peace order." Against the backdrop of events in Afghanistan, EU Commission President Ursula von der Leyen argues for the expansion of Europe's military competencies.
December 8, 2021
The NATO General Secretary Jens Stoltenberg and Austria's Foreign Minister Alexander Schallenberg have signed the headquarters agreement for the NATO Liaison Office in Vienna.
May 12, 2021