Berlin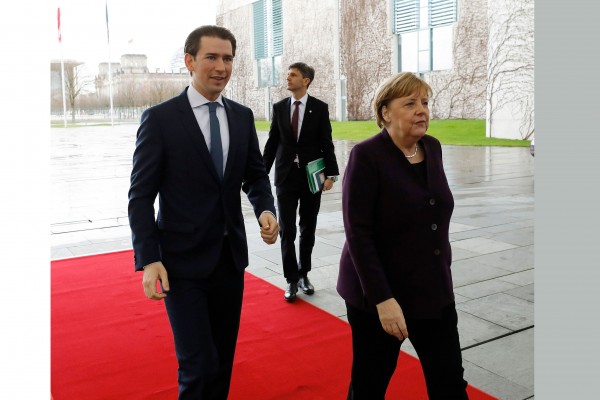 The multi-year financial framework, the EU's future process and climate protection in focus at meetings with Chancellor Merkel. There is broad agreement on the financial framework, but on many other issues the chancellors are far apart.
February 3, 2020
The current head of the EC European Commission in Vienna, the German citizen Dr. Jörg Wojahn, will move back to Germany as Head of the European Commission's Representation in Berlin.
August 7, 2019
Austrian Airlines takes up a stance against low-cost competition at Vienna Airport. On the one hand, flights to Germany, such as Düsseldorf, Hamburg and Berlin, will be increased from April onwards. Paris and Copenhagen are to follow in May. On the other hand, prices are to be reduced.
March 22, 2019
The first Open Society Foundations, founded in Hungary in 1984 by George Soros, also of Hungarian origin, with a founding budget of US$3 million, is now actually withdrawing to Berlin.
May 15, 2018
The Central European University (CEU) donated by US billionaire George Soros does not plan to move to Berlin or Vienna, but expects the Hungarian government to sign the agreement with the State of New York as soon as possible so that the CEU can remain in Budapest.
April 20, 2018 · Updated: April 20, 2018; 19:10
LaudaMotion is to become a powerful low-cost airline. Ryanair ultimately intends to acquire a 75 percent stake. From June 2018, a total of 65 routes are to be served from Vienna, from seven German airports (Berlin/Tegel, Cologne, Düsseldorf, Frankfurt, Munich, Nuremberg, Stuttgart) and from Zurich to the Mediterranean region and to the Canary Islands.
March 30, 2018
Austrian Airlines offers a flight program with 138 destinations in 55 countries in summer 2018.
March 26, 2018
A search engine for finding entrepreneurs to meet up with has published a list of the top 10 international startup cities. Vienna made it to number six. Continue reading to see the full ranking of the top international startup cities where entrepreneurs want to meet up.
February 4, 2015
Compared to German metropolises, the Viennese property market has still a significant upside potential. Nevertheless, the office market in Vienna is expected to stagnate in the next few years.
January 15, 2014
Purchase of a 3,000 sqm property for the realisation of 100 flats in the Charlottenburg-Wilmersdorf district of Berlin. 1,500 new flats in Berlin in construction or in planning.
January 21, 2013
The last concrete was laid on the roof today. The foundation stone was only laid in November 2011 and the building is set to be completed by mid 2013.
September 11, 2012
The planned liquidation of land reserves in Berlin by the Austrian property company CA Immo is gathering pace.
July 20, 2012
The leader of the German Left Party, Gregor Gysi, says that Vienna has lead a better economic policy after the fall of the Soviet bloc than Berlin.
March 4, 2011