AI Artificial Intelligence
The City of Vienna announced the winner of the 2021 Hedy Lamarr Award for outstanding achievements by women in information technology. Find out who won this year for her work on innovative learning methods and immersive experiences.
October 25, 2021
On his stay at the 76th United Nations General Assembly in New York, Foreign Minister Schallenberg held a roundtable event with Austrian and U.S. entrepreneurs to exchange ideas. This was the first of the ReFocus Austria initiative events in the U.S. aimed at strengthening the Austrian economy. Read more about ReFocus Austria and what was discussed at this event.
September 30, 2021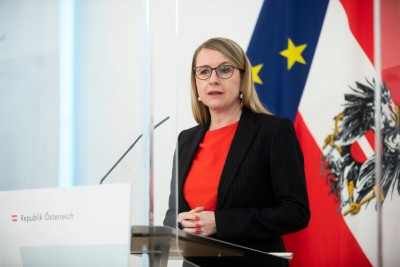 Austria's Minister for Digital Affairs, Margarete Schramböck, welcomes the new EU proposition of rules for artificial intelligence. Schramböck stresses the need for an EU-lead process and advocates for secure and innovative solutions that would "promote innovation while ensuring a high level of protection and security."
April 26, 2021
According to a study by the Boston Consulting Group (BCG), only 12 percent of Austrian businesses use artificial intelligence in their operations. For Alfred Harl, representative of the Austrian Federal Chamber of Commerce in this particular sector, Austrian companies will need to stay up to date with regard to new technologies and not be "left behind in the strong international environment."
April 14, 2021
At the Informal Council of EU Minister for Telecommunication and Digitalization the future of the EU with regard to security, exchange and use of data was discussed. Austrian Minister Schramböck is delighted about the progress made and the signing of the EU Cloud Declaration that should enable an even better exchange of data among member states.
October 15, 2020
The start-up event ViennaUP'21 will be at the center of the international start-up scene in the spring of 2021. Many well-known formats have already assured their participation and will move the spotlight to Vienna from April 27 to May 12 2021.
September 21, 2020
The President of the Federation of Austrian Industries (Industriellenvereinigung) Georg Knill used the European Forum Alpbach to underline the importance of research, technology and innovation for a wealthy future economy.
August 28, 2020
The World Intellectual Property Organization (WIPO) named Austria's neighbor Switzerland as the world's most innovative country, during the launch of its latest Global Innovation Index. Austria isn't even in the top 20. Biggest issues are the stagnation of public expenditure on research and development and the increase of economic protectionism.
July 26, 2019
Austria's Government is currently working together with the consulting firm Accenture on an Austrian Artificial Intelligence (AI) strategy, which is to be finalised by summer 2019. A study shows that a 3 percent economic growth is possible. That much is already known.
May 3, 2019