French Embassy in Vienna
Ambassador Gilles Pécout presented France's Presidency program to the EU Committee of the Austrian Federal Council (Bundesrat). Pécout also mentioned challenges of the French Council Presidency, especially in points where Austria has a different position. The tensions between France and Austria regarding the different positions on nuclear energy, migration and EU enlargement are respected but currently remain unresolved.
February 3, 2022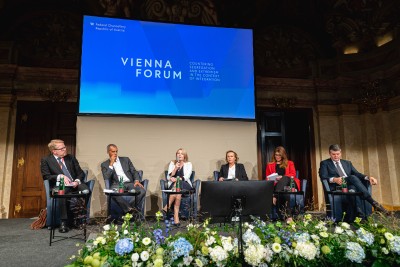 Austrian Integration Minister Susanne Raab hosted the "Vienna Forum on Countering Segregation and Extremism in the Context of Integration." Various officials from across Europe came to discuss the fight against extremist movements such as "political Islam." Read about the key areas that Raab and the others agreed upon at the event.
November 4, 2021
Several Vienna Embassies marked the International Day Against Homophobia, Biphobia and Transphobia (IDAHOBIT 2021) by expressing solidarity in a common statement. The French Embassy in Vienna released a video drawing particular attention to sexual discrimination in sports.
May 18, 2021 · Updated: May 18, 2021; 22:55
Due to COVID-19 restriction a limited delegation of political and diplomatic representatives gathered on Sunday in the Mauthausen Concentration Camp for the traditional commemoration of the 76th anniversary of its liberation while honoring the memory of the dead.
May 17, 2021 · Updated: May 17, 2021; 19:44
At the invitation of Ambassador Saint-Paul, the Permanent Representative to the UN, Jean-Louis Falconi and the Permanent Representative to the OSCE, Véronique Roger-Lacan, a reception was held at the French Embassy in Vienna.
July 15, 2019
H.E. Mr. Francois Marcel Michel Saint-Paul is Ambassador Extraordinary and Plenipotentiary of the French Republic to the Republic of Austria.
May 16, 2018