Sponsored
Page 1/1
Awards
The European State Prize of the Ministry of Foreign Affairs honours the voluntary commitment of citizens and organisations to promote European awareness and understanding. The winning project in 2018 was the nationwide citizens' initiative "Europa.cafe", a successful example of how to creatively make the European Union tangible for the individual citizen on the one hand and how committed citizens can reach with dedication and conviction on the other.
October 12, 2018
Journalist Alexandra Föderl-Schmid will be awarded the First Ari-Rath Prize for Critical Journalism on 3 May 2018, the Day of Freedom of the Press. This prize was established to honour journalists who have rendered outstanding services to critical reporting on immigration, expulsion and asylum, committed to respect for human rights, in the spirit of the former editor-in-chief of the Jerusalem Post, who died in January 2017.
April 23, 2018
Dr. Richard Schenz has recently been appointed as new President of the Austrian-Russian Friendship Society (ORFG - Österreichisch-Russische Freundschaftsgesellschaft). He succeeds CEO Ludwig Scharinger who left office for health reasons. KR Sen.hc Richard Schenz is a Vice President of the Austrian Chamber of Commerce (WKO). He was formerly CEO of OMV and Capital Markets Advisor to the Austrian Minister of Finance.
December 22, 2015
Global Finance Awards: RBI again "Best Bank in CEE".
April 7, 2014
Miroslav Singer, governor of the Czech National Bank (CNB) was given the Central Banker of the Year 2014 award for Europe by The Banker.
January 3, 2014
Awards for the Group companies Bulstrad and Bulstrad Life.
December 5, 2013
The Banker and PWM named the Austrian bank "Best Private Bank".
November 19, 2013
Raiffeisen Bank International AG (RBI) was again awarded the prestigious title of "Best Bank in CEE & CIS" by EMEA Finance magazine.
June 6, 2013
BREEAM certificate and SEE Green Building Award for S Immo properties.
June 4, 2013
Already fourth award for RBI as "Best Bank" in CEE this year. Network banks in Albania, Belarus, Bosnia and Herzegovina and Romania receive local "Bank of the Year" awards.
November 29, 2012
The distinguished international financial magazine EUROMONEY has named Bank Austria the Best Bank in Austria in its Awards for Excellence 2012.
July 7, 2012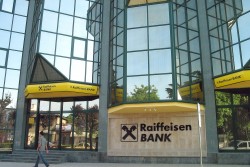 Austrian Raiffeisen Bank International (RBI) receives award for the seventh time. For RBI, it is already the third award for RBI as "Best Bank" in CEE in 2012.
July 6, 2012
Delta Bloc UK, have been awarded British Precast's Innovation award for 2012 for their Precast Concrete Road Safety Barrier project on the M4 in South Wales.
July 4, 2012