Paris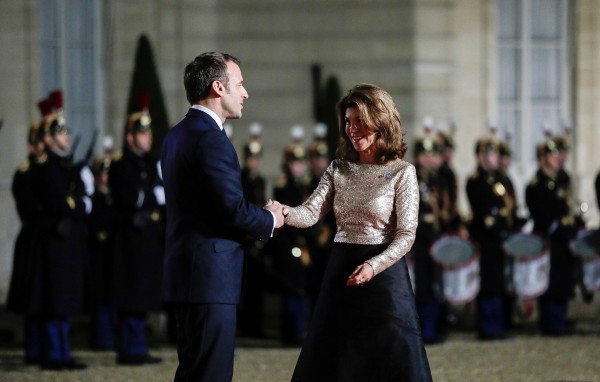 At the Peace Forum, Austrian Chancellor Brigitte Bierlein met French President Emmanuel Macron, several Heads of State and Government and directors of international organisations. She also presented the initiative "Protecting Civilians in Populated Areas".
November 12, 2019
Vienna is the second most important destination for international congresses after Paris. The Austria Center Vienna profits from this in a unique way and last year brought about 116,000 international visitors to Vienna inducing an economic impact of half a billion euros.
July 29, 2019
Austrian Airlines takes up a stance against low-cost competition at Vienna Airport. On the one hand, flights to Germany, such as Düsseldorf, Hamburg and Berlin, will be increased from April onwards. Paris and Copenhagen are to follow in May. On the other hand, prices are to be reduced.
March 22, 2019
Dr. Richard Straub, who resides in Paris for more than two decades, received the Grand Decoration of Honour for Services to the Republic of Austria (Große Ehrenzeichen für Verdienste um die Republik Österreich) at the Austrian Embassy in Paris.
February 5, 2019
France is Austria's fourth most important export market worldwide. At more than EUR 3 bn, the trade surplus with France is the second highest in the world after the USA. Last year, France grew particularly strongly as a destination for Austrian products with an increase of 32% or EUR 7 bn in Austrian exports.
January 30, 2019
The Vienna meetings industry progresses from record to record. With 186 meetings, Vienna remains behind Paris with 196 meetings, number 2 in the Worldwide Ranking of the ICCA (International Congress and Convention Association). In the year prior to that, Vienna was still in fifth place. The proportion of congresses that can be allocated exclusively to the United Nations is enormous and accounts for around 7% of overnight stays.
April 24, 2018
The Vienna-based European headquarters will be the strategic centre for all thermal and renewable energy facilities in Austria, Italy, Czech Republic, Romania, Poland, Slovakia, Bulgaria, Armenia, Spain, Northern Ireland and Ukraine.
December 11, 2015
According to the Ministry for Foreign Affairs also three Austrians were present in the Bataclan concert hall, one of the attacks' targets.
November 18, 2015
In a special meeting of the Permanent Council in Vienna to discuss the recent attacks in Paris, the 57 OSCE participating States have adopted a declaration condemning the 'brutal and indiscriminate' Paris attacks and recent terrorist atrocities.
November 17, 2015
The OSCE joined world leaders and other international organizations in swiftly denouncing the attacks. OSCE Chairperson-in-Office and Serbia's Foreign Minister Ivica Dačić assured France that "all OSCE participating states stand by you at this hour, sharing the belief that no political cause can ever justify such heinous acts."
November 17, 2015
A search engine for finding entrepreneurs to meet up with has published a list of the top 10 international startup cities. Vienna made it to number six. Continue reading to see the full ranking of the top international startup cities where entrepreneurs want to meet up.
February 4, 2015
More than 10,000 people gathered in Vienna as part of the commemoration of the victims of the terrorist attacks in Paris.
January 13, 2015