United States
U.S. Ambassador Victoria Kennedy hosted a festive reception at her residence to mark Independence Day. The event was attended by numerous friends and partners to celebrate this significant day together.
July 10, 2023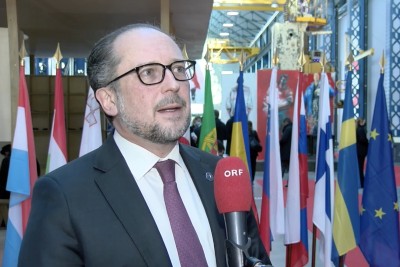 After a prolonged period of silence between the US and China, a high-level meeting took place amid significant tensions. President Joe Biden's National Security Advisor, Jake Sullivan, met with China's top foreign policy official, Wang Yi, in Vienna.
May 15, 2023
In 2022, Austrian companies have filed more inventions with the European Patent Office than ever before. Semiconductors increased strongly.
March 29, 2023
Foreign Minister Alexander Schallenberg visited the USA, where he will meet with Secretary of State Antony Blinken. Austria is a relevant geostrategic partner to the U.S. in many areas such as Western Balkan politics or the Ukraine subject.
February 7, 2023
The European Union, Austria, and over 40 other nations have issued a statement supporting Ukraine's case before the International Court of Justice against Russia. In order to hold Russia accountable for its violations of international law, the Joint Statement has been released.
July 15, 2022
The EU summit, which was also attended by U.S. President Joe Biden, focused on the political crisis caused by the Russian invasion of Ukraine. Austrian chancellor Karl Nehammer attended the European Council too and expressed the importance of stability in the Balkans. Read about the European Council and the chancellor's visit to Brussels.
March 28, 2022
In the backdrop of the Russian invasion of Ukraine new issues emerged in the negotiations for the revival of the JCPOA in Vienna. For the West and Iran, it is important to re-establish the Joint Comprehensive Plan of Action, despite Russia's diversionary tactics.
March 24, 2022
The OSCE Chairman-in-Office Zbigniew Rau and Secretary-General Helga Maria Schmid condemned the ongoing violence that Russian forces committed in Ukraine and the city of Mariupol. Meanwhile Russia's ambassador to the United Nations has denied that Russia was involved in the attack on a theatre in besieged Mariupol.
March 23, 2022
The Balkans were plagued by war 30 years ago. When Yugoslavia collapsed, the first war in Europe after World War II occurred. A policy of stability in this region is particularly important, especially in the backdrop of the unprovoked Russian invasion of Ukraine. Recently Austrian Chancellor Karl Nehammer as well as many other European politicians have traveled to the Balkan states to talk to the most important politicians and dignitaries. The EU and the U.S. have long been the central players in the Western Balkans and want to counter Russia's and China's influence in the region.
March 18, 2022
Why a top "Quality of Life" rating is not enough to rank among the "best" countries in the world, and why expat destinations like Canada, Japan, Germany, Australia and even Switzerland are uncatchable ahead of Austria.
April 30, 2021