Diplomatic Academy of Vienna - Vienna School of International Studies
The Foreign Minister of Libya's transitional government, Najla El Mangoush, had a telephone conversation with Austrian counterpart Alexander Schallenberg. In the talk, Libya's Foreign Minister expressed her optimism for the future developments in Libya, while Schallenberg assured her of the EU's continued support for the country.
March 26, 2021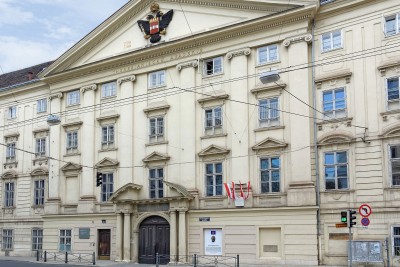 In 1746, Empress Maria Theresa of Austria founded the Theresian Academy, which has been closely linked to Austria's history ever since. In 2021, the Theresian Academy celebrates its 275th anniversary, and with it the connection between scholastic tradition and innovation in education.
February 23, 2021
The current round of the Austrian Leadership Program (ALPS) was dedicated to deepening and expanding existing contacts.
October 16, 2019
At the opening ceremony of the Diplomatic Academy's 2019/2020 academic year, National Council President Sobotka underlined the importance of dialogue in international relations.
October 3, 2019
As part of the 11th ALPS round in May 2019, 21 international company and start-up founders from 13 non-EU countries had the opportunity to make contact with Austrian decision-makers, explore ways of working together and develop new ideas.
May 16, 2019
The Ministry for Foreign Affairs' Secretary General, Linhart visited Sarajevo. EU-accession and fight against radicalization were in the centre of the talks. Linhart: "Full support for the Bosnian reform route".
November 20, 2015
"The European foreign policy must focus more of its attention on the neighborhood, the stabilization thereof – and in the case of the Western Balkans, their way towards the EU – has to be our European priority", Secretary General for Austrian Foreign Affairs, Dr. Michael Linhart declared on the occasion of the 19th Europe Forum of the Austria Institute for Europe and Security Policy (AIES) in the Diplomatic Academy of Vienna
November 18, 2015
At the Austrian Parliament a high-level panel of international politicians and prominent activists have discussed significant achievements and major obstacles in the implementation of the women, peace and security agenda. The speakers included Ambassador Anwarul Chowdhury, Ursula Plassnik, former Austrian Foreign Minister, Lakshmi Puri, the Deputy Executive Director of UN Women, May Chidiac of the Chidiac Foundation and Hanan Ashrawi, PLO Executive Committee Member.
November 4, 2014