Alma Zadic
European Commissioner for Human Rights Dunja Mijatović criticizes the asylum situation in Austria after her visit. "High number of femicides and the emergence of new digital dimensions of violence show, increased and better co-ordinated efforts are required."
December 22, 2021
The Austrian Freedom Party (FPÖ) has announced that it will not extend a memorandum of understanding (MoU) with the United Russia (Единая Россия) party, a nationalist-conservative rallying party. It is the party with the largest membership in the Russian Federation under party leader Dmitry Medvedev, who supports Vladimir Putin's course. However, Russia can still rely on other former Austrian politicians. Read on to see who the most prominent supporters are.
December 16, 2021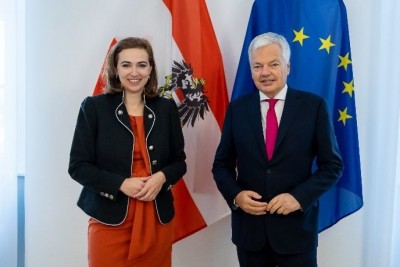 The EU Justice Commissioner, Didier Reynders, was hosted by Austrian Minister of Justice Alma Zadić for a working meeting in Vienna. The two discussed various issues, including their shared concern regarding the rule of law following the Polish Constitutional Court's ruling on the primacy of national law over EU law. Read about their meeting and the increased tensions surrounding the Polish court's decision.
October 12, 2021
Former vice chancellor and the ex-head of the Austrian Freedom Party (FPÖ) Heinz-Christian Strache has been sentenced to 15 months' conditional imprisonment for bribery at Vienna's regional court. The co-defendant and owner of the private clinic in Vienna-Währing, Walter Grubmüller, was sentenced to twelve months for bribery, also on probation.
August 27, 2021
The draft law against "Hate in the Net" obliges online platforms to introduce an effective reporting procedure and to delete unlawful content immediately. The third major point is the issue of a contact person including an address.
September 3, 2020
Former refugee from the war in Bosnia and Herzegovina, Alma Zadić commits herself to work with passion and all her strength for a policy of unconditional human rights and social justice.
February 20, 2020
Austrian President Van der Bellen has praised the new Federal Government in the Presidency Chancellery. In addition to Federal Chancellor Kurz and Vice-Chancellor Werner Kogler, the cabinet consists of 13 ministers and one state secretary. Among the 17 government members are 9 women and 8 men. Find out below who the new government members are.
January 7, 2020
During a panel discussion in the Austrian Parliament, the perspective of enlargement for the Western Balkans and, in this context, the role of parliaments were discussed. The future of the six candidate countries in the Western Balkans is within the EU. They need an honest perspective for this common future with the EU Member States. The EU must contribute to ensuring the stability of the democracies in these countries. The former President of the German Bundestag, Norbert Lammert, attended the discussion.
October 11, 2018