Health Industry
The Digital Days 2020 hosted by the City of Vienna as a hybrid event have welcomed over 1,100 users with more than 4,000 views in total. Digitalization in every business sector was discussed among politicians and experts from the business world.
October 5, 2020
Today, Chancellor Kurz was holding a State of the Union Address and talked about the Coronavirus, special vacation for parents and a "pact against isolation". According to him, the next summer will be normal again. However, the time until then will be challenging.
August 28, 2020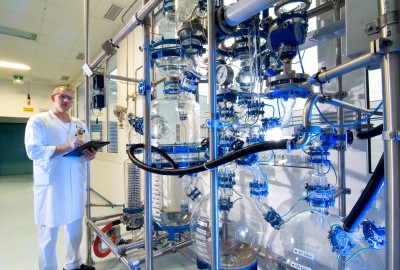 The pharmaceutical company Novartis is investing EUR 27.4 million in the Kundl site in Tyrol to produce an active ingredient for a new therapy for wet age-related macular degeneration with 40 employees.
June 20, 2020
Following a decision by the Austrian health authorities, the body temperature of passengers on direct inbound flights from China are being measured at Vienna International Airport (Flughafen Wien Schwechat) with respect to coronavirus.
February 6, 2020 · Updated: February 24, 2020; 09:31
At a press conference at Vienna International Airport (Wien-Schwechat) on the coronavirus, Minister of Health Anschober and Minister of the Interior Nehammer provided information on the measures taken by Austria and the airport as follows..
February 7, 2020
The first coronavirus test results (2019-nCoV PCR tests) of those seven Austrians who returned Sunday from the Chinese province of Hubei and were transferred directly to the Hygiene Centre Vienna are now available and all of them are negative.
February 4, 2020
The Croatian government will use the World Bank's funds for a national health program.
May 9, 2014
The Austrian health service supplier could record a rise in sales by 3.0%. EBIT was up by 8.0%.
March 22, 2012