Sponsored
Page 1/1
George Soros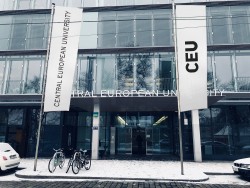 About a year after it was driven out of Hungary by Viktor Orban, the CEU has started its provisional operation in Vienna-Favoriten. Two new Master programmes in Business Administration and International Public Affairs were launched simultaneously. Within 5 to 6 years, the Vienna campus is to move to Baumgartner Höhe. But the CEU will never abandon Budapest as a location.
October 9, 2019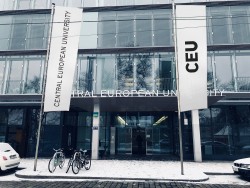 The Austrian accreditation procedure for the CEU Central European University was successfully completed, so that the university can now start its operations in Vienna. Until now, the university was accredited in the USA and Hungary, the teaching took place exclusively in Hungary.
July 12, 2019
The CEU Central European University of George Soros announces that it has opted for an interim location in Vienna's Favoriten, the "heart of the multicultural 10th district". This campus is scheduled to start operations in autumn 2019. By 2023, the university will be moved as planned to the premises of the Otto Wagner Hospital on Baumgartner Höhe in Vienna's 14th municipal district.
March 22, 2019
President János Áder of Hungary paid an official visit to Austria. The main topic of discussion between Áder and Austrian Federal President Alexander Van der Bellen was climate protection.
February 25, 2019
In Hungary, the Central European University (CEU) has faced massive hostility. As a consequence, the location will be relocated to Vienna. Michael Ignatieff, the rector of CEU, announced this week in Budapest that the university is finally moving: "This is a dark day for freedom in Hungary, and it's a dark day for academic freedom." In Vienna, negotiations are still underway on a suitable building for interim use from 2019. By 2023, the university is to move permanently to the grounds of the Otto Wagner Hospital.
December 6, 2018
The first Open Society Foundations, founded in Hungary in 1984 by George Soros, also of Hungarian origin, with a founding budget of US$3 million, is now actually withdrawing to Berlin.
May 15, 2018
The ridiculous discussion about the wave of European immigration allegedly steered by the Soros plan is widening as a result of a letter of evidence from the Hungarian Foreign Minister.
May 11, 2018
The Central European University (CEU) donated by US billionaire George Soros does not plan to move to Berlin or Vienna, but expects the Hungarian government to sign the agreement with the State of New York as soon as possible so that the CEU can remain in Budapest.
April 20, 2018 · Updated: April 20, 2018; 19:10
In view of the political pressure exerted by the Hungarian government under the proposed amendments to Act CCIV of 2011 on Hungarian National Higher Education, the Central European University (CEU) of US billionaire George Soros feels compelled to look for alternatives. The city of Vienna naturally offers itself as an excellent alternative or supplement. The CEU and the City of Vienna are already in negotiations about a memorandum of understanding (MoU) that would enable CEU to open a satellite campus site in Vienna. The Otto Wagner area at Baumgartner Höhe is being examined as a possible location.
March 16, 2018
Soros is calling on members of the European Union to behave as countries indirectly at war with Russia and to provide Ukraine with $50 billion to defend itself and kick-start political reforms. Russian President Vladimir Putin's imperial ambition has unintentionally brought into being a new Ukraine that is adamantly opposed to endemic corruption and inefficient government. By offering assistance, Europe can foster an open society in Ukraine and protect itself from Russian aggression.
January 22, 2015
In a talk on "The Future of the Euro" in Vienna, George Soros presented his vision of how the European financial crisis can be solved.
September 11, 2012
The IIF expects a large gathering of the world's leading bankers and investors to attend the 2010 IIF Spring Membership Meeting.
June 7, 2010