Doris Schmidauer
The Russian diplomat Yury Fedotov, who was - until December 31, 2019 - the Executive Director of the United Nations Office on Drugs and Crime (UNODC) and also the Director-General of the UN Office at Vienna (UNOV) has now officially taken his leave.
January 30, 2020
The Federal President's Reception for the Diplomatic Corps annually gathers all diplomatic representatives in Vienna in the Ceremonial Hall of the Hofburg.
January 17, 2020
Guests from around 200 countries attended the ceremony of the enthronement of Emperor Naruhito in the Japanese Imperial Palace in Tokyo, including Federal President Alexander Van der Bellen and Doris Schmidauer.
October 22, 2019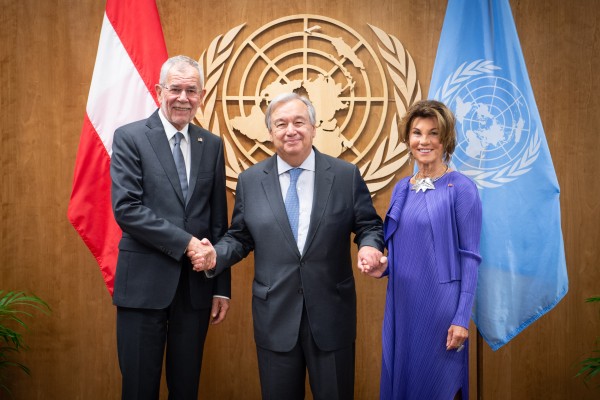 President Van der Bellen, Chancellor Bierlein, Environment Minister Maria Patek and activist Anika Dafert attended the 74th UN General Assembly in New York.
September 25, 2019
Alexander Van der Bellen is an Austrian economist, former politician of the Green Party and since 26 January 2017 ninth Austrian Federal President of the Second Republic.
October 4, 2018 · Updated: September 2, 2019; 20:02
During his state visit to Israel, Austrian Federal President Alexander Van der Bellen emphasised Austria's co-responsibility for the Shoah. In the Holocaust memorial Jad Vaschem Van der Bellen bowed before the Jewish victims of National Socialism. Meanwhile, as expected, there is no lifting of the boycott against Foreign Minister Karin Kneissl or members of the Freedom Party's cabinet.
February 4, 2019
The two-year-old panda twins Fu Feng and Fu Ban, born in Vienna, relocated to Sichuan Province in China in transport boxes and by airplane as originally planned.
December 6, 2018
As international and local pressure mounts on Belgrade and Pristina to define their relations with an agreement on normalization, the official Austrian visit to the Republic of Serbia as part of an economic and cultural delegation headed by Federal President Alexander Van der Bellen focused on bilateral economic relations, Serbia's EU perspective and the Belgrade-Priština Dialogue.
October 18, 2018
Belgian King Philippe and his wife Mathilde paid a visit to Austria on the occasion of the opening of the Pieter Bruegel the Elder exhibition (Vindobona reported). In addition to the opening in the Kunsthistorisches Museum, the programme included receptions with Federal President Alexander Van der Bellen and Mayor Michael Ludwig, as well as a visit to the National Library. For the royal couple this is their first official visit to Austria since their accession to the throne.
October 3, 2018
Austrian Federal President Van der Bellen is on an official visit to the Estonian capital Tallinn. As a child of Russian-Estonian refugees born in Vienna, some melancholic emotions cannot be excluded.
May 30, 2018