Wine
One of the most famous Austrian wine competitions has tested 275 wines this year. SALON as the competition is called has chosen 21 of them as winners. For the first time, the wines were tasted and evaluated according to their origin and not by grape variety.
September 12, 2022
In international trade magazines and at renowned wine competitions, Austrian wines generated enthusiastic voices and won top ratings, gold medals and coveted trophies.
August 9, 2022
The Viennese coffeehouse, Austrian Delight, is serving as the culinary ambassador for Austria at the World Expo in Dubai. Read about how the cafe is representing Austria and what else Vienna is offering at the World Expo.
November 11, 2021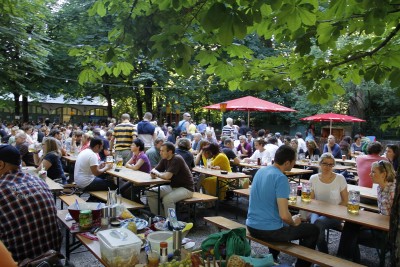 The Austrian coalition government today introduced a bill in the National Council that specifies the tax relief for the catering and restaurant industry. The tax on sparkling wine will fall and the value added tax on non-alcoholic beverages will be reduced.
May 13, 2020
Wine has always been a drink for gods and people. The noble drink was just like today an important economic good and stimulant and possessed besides a large religious and cultic meaning. Also in the country at the Nile it was already early professionally produced and enjoyed generously. Under the title "In vino veritas. Wein im alten Ägypten", the Papyrus Museum of the Austrian National Library presents more than 70 fascinating exhibits, up to 3,000 years old, on viticulture and wine enjoyment.
June 13, 2019
Once again, the VieVinum attracts 800 international trade visitors and an audience of around 15,000 and transforms the Vienna Imperial Palace into a vibrant place of good wine.
May 25, 2018
A Schlumberger cuvée vintage 2007 with 6.600 Swarovski crystals and 26 hours manual work production time was sold for a record price of 10.000 Euro at the "Licht ins Dunkel" charity gala for a good cause.
March 26, 2018 · Sponsored Content
Austria's wine sector set a new export record at € 126m (an increase of 2.6% over the previous year) in 2011.
March 28, 2012
Although the quantity of wine exports is shrinking steadily, the export volume worth € 126m reached a new record.
December 28, 2011
Around 80% of the Austrian wine exports are going to Germany. However, growth rates in Russia and Poland are surprisingly high.
April 23, 2011
According to Statistics Austria's wine harvest survey 2010, a wine production of 1 737 500 hl was achieved, produced on an area of 43 700 ha (-3% to 2009).
March 5, 2011
Wein & Co continues expanding. Since December 2009, 3 new stores have been opened. Tomorrow a new branch follows in the PlusCity in Linz, and for October and November further locations are expected at the Donauzentrum and the Mariahilfer street.
October 7, 2010
Local winemakers were able to achieve an average price of 1.91 € per liter for exported wine. However, the total volume of wine exported declined.
September 16, 2010
Georg Riedel, head of family-owned glass maker Riedel, has announced plans to put more focus on the firm's investment in China.
September 6, 2010