Sponsored
Page 18/18
Germany
The Austrian manufacturer of office furniture reports an increase in sales by 10.2% in Q3 2010. Sales in Germany dropped by 18.5%. UK market perfomed well.
December 15, 2010
Because of low interest rates and spreads, Austria is able to get convenient financing on the loan market. Euro-bonds would mean significant costs for Austria.
December 13, 2010
Although he supports the euro-bonds in principle, the time has not come yet for the Governor of the Austrian National Bank.
December 10, 2010
Massive criticism comes from Germany, the Netherlands and Austria against the proposal to implement euro bonds to stabilize the currency in the EU.
December 8, 2010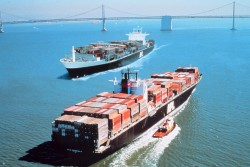 In the first nine months, Austria imported goods for € 82.45bn (+14.8%). Exports increased by 5.8% to € 79.69bn.
December 8, 2010
The governor of the Austrian National Bank, Ewald Nowotny, is for the introduction of euro-bonds. Germany's resistance is pre-programmed.
December 6, 2010
The two Austrain building companies, Strabag and Porr, are struggeling for the disputed major infrastructure project in Germany, Stuttgart 21.
December 2, 2010
The still ailing Carinthian bank restructures the leasing division. 500 jobs are being cut.
November 30, 2010
The summer 2010 season ended successfully: the number of guests reached an all-time high record of 17.9 million, 62.5 million overnight stays are the best value since 1995.
November 24, 2010
56 gas stations in the German states of Thuringia and Saxony go to a subsidiary of the Polish oil group PKN Orlen.
November 19, 2010
Since September 2009, Austrian banks have halved their exposure in Ireland. The most affected countries are the United Kingdom and Germany.
November 15, 2010
According to a study from Ipreo, especially Anglo American institutional investors are involved in ATX companies in addition to Austrian investors.
November 15, 2010